Horizontal Machining Center Can Handle Large Workpieces Up to 800mm x 1,100mm
Matsuura Machinery USA, Inc. has added the H.Plus-504 Horizontal Machining Center to the company's extensive product line. Since the series' debut in 2000, over 1,700 Matsuura H.Plus machining centers have been installed worldwide in various industries, including: aerospace, aircraft, automobile, medical and precision subcontractors.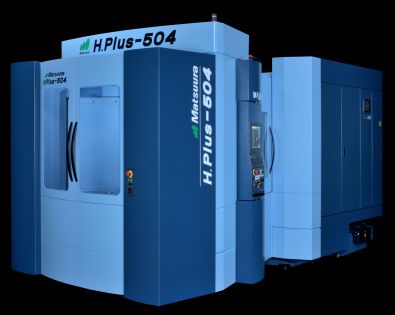 The H.Plus-504 is equipped with 500-by-500-mm pallet and #40-taper spindle. In response to customer and market demand for the accommodation of larger workpieces, the H.Plus-504 possesses the largest working envelope in its class and will handle a maximum workpiece size of D800 mm x H1,000 mm, weighing 750kg on each pallet.
In addition to the standard 12,000 min-1 spindle, a 20,000 min-1 (108.4 Nm) for high speed machining and 15,000 min-1 spindle (350.0 Nm) for high-torque, heavy-duty machining are available.
A rotary indexing table (B Axis) is provided as a standard feature, which is driven with a direct drive motor with a maximum feed rate of 100 min-1. In addition, Matsuura's DCS (Dynamic Clamp System) and ADC (Automatic Acceleration and Deceleration Control) intelligently contribute to a shorter cycle and indexing time.
The expandable ATC/APC options enable extended unmanned operation: Tool storage capacity with a maximum of 330 tools (matrix type magazine) and pallet storage capacity with a maximum of 6 pallets (floor pallet system).
The NC Matsuura G-Tech 31i is installed with MIMS: Matsuura Intelligent Meister System and utilizes a recently developed operation system (with a 15-inch touch panel screen), which improves operability, reduces non-cutting time and facilitates setup, operation and maintenance while saving labor and energy.
Want more information? Click below.