CNC Controller Now Able to Control 10 Axes/Spindles and 2 Auxiliary Axes
Siemens has expanded the functional scope of its Sinumerik 828D CNC family with new hardware and software.
These compact CNCs are now equipped with a new software version 4.7 and the powerful PPU 2xx.3. One of the benefits of the new Sinumerik 828D Advanced is its ability to control up to ten axes/spindles, as well as two auxiliary axes. In addition, the powerful Sinumerik 828D offers a second machining channel for simultaneous machining with two tools. The update also increases the range of applications for the Sinumerik 828D controllers including milling, turning and grinding machines.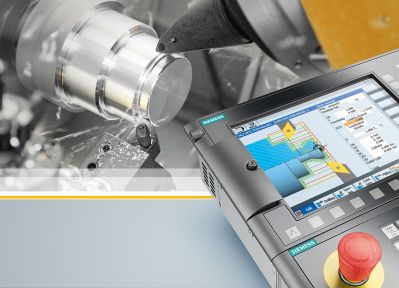 A new development on the compact Sinumerik 828D offers users higher productivity and improved performance for their CNC machines. Sinumerik 828D Advanced is capable of controlling milling machines with up to eight interpolating axes or spindles, and two additional auxiliary axes for the control of tool carousels, pallet changers, chip conveyors or other peripheral devices.
Users can also engage a second machining channel to execute two different NC programs simultaneously in their turning and rotary grinding machines, or they can synchronize the programs with each other by simply using ProgramSync. In this way, two workpieces can be machined at the same time on one machine, for example, for simultaneous rear face machining in the counter-spindle. Two tools can simultaneously be in action on the same workpiece in order to rough-cut at double the cutting rate, or to rough and finish at the same time for processes such as balance cutting. This increases the throughput of workpieces per machine, while also maintaining a high level of machining accuracy.
With the new software version 4.7, the G-Tech software is available on the Sinumerik 828D for grinding applications. It supports machine tool builders in designing compact grinding machines with up to ten axes and two machining channels. In addition, the 828D offers machine tool builders functionalities such as grinding cycles and application-specific tool management.
Siemens has also made the creation of part programs on the Sinumerik 828D more efficient and faster. One such improvement is the ability to transfer contour elements directly from a DXF file via contour detection into the programming of workpiece machining. A host of different documents and file formats can be called-up directly on the screen of the Sinumerik CNC for support. In addition, the colored marking of syntax elements -- known as syntax highlighting -- simplifies programming and helps the operator to work more effectively and error-free.
Want more information? Click below.
Copyright © 2019 by Nelson Publishing, Inc. All rights reserved. Reproduction Prohibited.
View our terms of use and
privacy policy
::m::