Precision Casting Manufacturer's Fit-for-Purpose CMM Fixturing Saves 50% Inspection Time
Yeovil Precision Castings, Ltd. manufactures high-quality investment castings in air and vacuum, supplying customers in aerospace, medical, power generation, vehicle components, safety equipment, and railway. Recently, Yeovil has discovered how to cut their inspection time in half.
To meet its customer demand for more thorough batch sampling, the company has invested in two DCC co-ordinate measuring machines (CMMs), each equipped with a Renishaw PH10T motorized head. More recently, YPC has also invested in a comprehensive Renishaw modular metrology fixturing system, to increase repeatability of part inspection and to reduce the time taken in its quality control activities.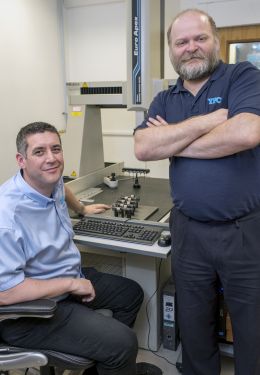 Engineering Manager Mr. Stanley Chubb (right) and Chief Inspector, Mr. Rob Calway (left), supervising the CMM inspection.
As a result, YPC claims to take up to 50 percent less time to check batch samples than it did previously. According to Engineering Manager, Mr. Stanley Chubb and company Chief Inspector, Mr. Rob Calway, CMM fixturing is no longer the "weak link" that it once was.
Meeting and Exceeding Demands
Stanley Chubb: When I came to YPC, 15 years ago, we only had traditional measuring and inspection equipment. We had a manual CMM, but mainly we used vernier calipers and micrometers. Now, though, we have two DCC Mitutoyo co-ordinate measuring machines -- one of which is slightly bigger than the other, and is the one mainly used for sampling our production parts. The smaller one is mostly used for creating the inspection programs.
We were satisfied with the way we did things 15 years ago. We provided our customers with what they wanted, but over time their demands and the demands of industry in general have evolved. Customers want more accuracy, but they also want more comprehensive checks and traceability. We've invested in the inspection equipment to make sure we can meet, and exceed their demands.
Rob Calway: Once we'd made the investment in the CMMs, it became apparent the weakest link in our inspection process was fixturing.
Multiple-part setup increases throughput on the CMM while allowing for future flexibility.
When we were measuring one-offs and small batches, we could use ad-hoc, makeshift fixtures, created using V-blocks and whatever else we had to hand. However, that approach doesn't work well when you need greater throughput, position repeatability and reproducibility.
If we make a batch of castings, say, 90 to 100 off, we may have to sample 10 of them. The amount of time we were spending setting up the CMM to check those sample parts became a major issue.
That's when we approached Renishaw. They were able to provide us with solution-based advice and consultancy, to test and to prove the fixturing solution.
SC: We bought the Renishaw modular system with two M6 base plates and a magnetic and clamping fixture kit. On the two base plates, we can build fixtures for one-off parts or, for example, batch samples of up to 10 or 12 parts.
With help of the Renishaw FixtureBuilder software, Rob has created a folder with descriptions and images of how to build the fixtures for each of our more common parts. An operator simply follows the automatically generated work instructions to build the fixture, positions the finished plate with the parts on the CMM table, and calls up the correct program.
We also designed and made our own positioning guide, so the operator can simply place the plate against the guide -- in the position indicated in Rob's instructions -- and be confident that the parts are in the correct position.
Traceable, Repeatable and Accurate Measurement
RC: Now we have a system that gives us repeatable and accurate measurement of multiple parts, saving time and preventing mistakes. The operator no longer determines the position of the fixture and the parts -- the system we have offers foolproof, fast setting of the plate in a position that the CMM can easily find. The Renishaw system is also easy to expand. We can simply purchase more clamps and base plates, and it's very cost-effective, especially compared to systems from other companies.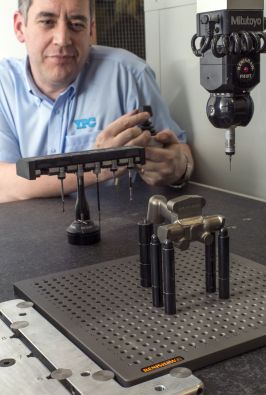 Renishaw's metrology solutions in use: a CMM modular fixturing setup, alongside PH10 motorized head and a probe rack.
SC: Quick and repeatable inspection is always a trade-off between being foolproof and being useable in a busy production environment. My general philosophy is, less is more. After we've built a system for a part or multiple samples from a batch, we try to take out as much of the fixturing as possible, without compromising the repeatability.
The more stops, posts, and stand-offs we use, the less access we have to the part, which slows down the measuring process. We only need three points of rest for a part, perhaps one or two of which will be magnets to provide more stability. The Renishaw touch probe uses very little force; using the magnets means parts are secure enough that they're not displaced.
RC: Furthermore, Renishaw's FixtureBuilder software has improved our ability to program off-line. The software package enables us to build and export fixture set-ups using 3D models, which we then use to create inspection programs before the part is ready. In some cases, before the part has even been manufactured! We can work from a 3D model in FixtureBuilder to create the fixture, and use this model to program well ahead of time.
SC: Throughput and speed of inspection are vital, as it's a production environment, and delivery dates are critical. Since we invested in the Renishaw modular fixturing system, we're saving a lot of time. Repeatability has also improved, dramatically.
What's more, we're able to prove repeatability, so our customers can enjoy peace of mind, knowing that our samples give a reliable indication of batch accuracy. In short, creating fixtures on the CMMs is no longer an imprecise, hit and miss, time-consuming affair. We now feel like we have far better control.
Want more information? Click below.