Measurement System Uses Tactile and Non-Contact Vision Probes to Maximize Throughput and Accuracy
The REVO-2 dynamic measuring system is designed to maximize measurement throughput while maintaining high system accuracy.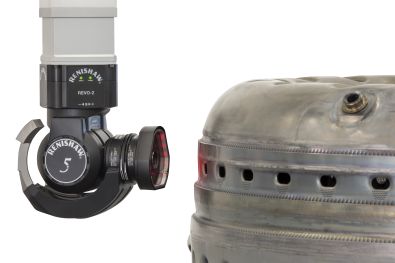 REVO-2 is the only scanning system for CMMs that simultaneously controls the motion of three machines and two head axes while collecting workpiece data using its range of 2D and 3D tactile probes, surface roughness measurement probe and now non-contact vision probe too.
The head's design incorporates sophisticated laser measurement and electrical signal transmission technology for precise workpiece measurement at extremely high rates of data capture.
The 5-axis control system removes unwanted dynamic errors associated with machine movement because the measuring head performs most of the work. As the head is much lighter and more dynamic than the CMM, it is able to quickly follow changes in the part geometry without introducing large dynamic errors.
RSP2
RSP2 is a dedicated lightweight probe for use on REVO systems, capable of 2D-scanning (x, y) and 3D touch-trigger measurement (x, y, z). The RSP2 has a universal body to which a number of different length stylus holders, with a minimum reach of 175 mm and a maximum reach of 500 mm, can be fitted.
The RSP2 utilizes Renishaw's tip-sensing technology, specifically designed for high speed scanning with low scanning forces and minimal stylus wear.
The UCCserver software manages the type of stylus that can be used with RSP2, ensuring that optimal metrology performance is achieved.
Want more information? Click below.
Copyright © 2019 by Nelson Publishing, Inc. All rights reserved. Reproduction Prohibited.
View our terms of use and
privacy policy
::m::