5-Axis Hybrid Machine Combines CNC Mill Accuracy with Large Work Envelope of High-Speed CNC Router
At IMTS, C.R.Onsrud introduced a new type of machining center which is a hybrid of traditional milling technology with the productivity of high speed machining.
This American made five axis machining center is configured with dual tables eliminating load unload time. It also has the capability to electronically lock the two tables together for machining of large parts. The optional Dual Process technology allows independent program machining on each of the two tables simultaneously for maximum flexibility.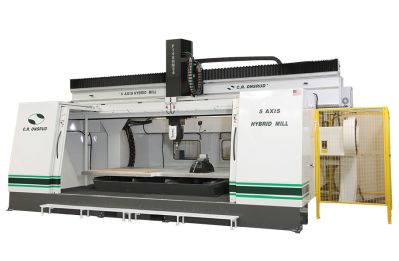 The Onsrud Hybrid Mill is offered in two standard configurations -- nominal 8 foot or 12 foot bed widths. Available options include dual spindles, high RPM spindles and quick change, large capacity tool changers.
"We repeatedly come upon machinists and fabricators requiring a large work volume who would benefit from the high speed machining of a router, that don't want to incur the expense of a large traditional mill," says Jeff Onsrud, Directory of Sales & Business Development. "Now we just combined them into the Hybrid Mill and you have the best of both worlds."
C. R.Onsrud's Hybrid Mill, "HMSeries," features 15 HP, 24,000 RPM Spindles (with 24 HP and 33 HP options) and Fanuc 31i or Osai Open Control. Tool Management is a 24 position quickchange (with 100+ position changer options). Material Clamping is by Vacuum Hold Down (with optional Fixture Plate or TSlot tables and Chip Handling by Chip Pan (with optional Chip Conveyor). Other Hybrid Mill options are Inkjet Part Marking, Auto Tool Measurement, Robotics Integration, Continuous CAxis, and Linear Scale Feedback.
C.R.Onsrud F98HM specifications are Xtravel of 60 inches, Ytravel of 98 inches, Ztravel of 41 inches; overall length of 184 inches, overall width of 320 inches, overall height of 169 inches. Model F148HM specifications are Xtravel of 60/72 inches, Ytravel of 144 inches, and Ztravel of 169 inches, with overall length of 184 inches, overall width of 144 inches, and overall height of 169 inches.
Want more information? Click below.