New Automated Power-Stroked Honing Machine Ensures Rapid Metal Removal with Precise Finish Control
Sunnen's new fully automated SHA-4000 horizontal honing machine is a premium system for high-volume processing of small parts, such as gears, turbocharger bushings, cartridge valve components and pistol barrels.
With the popular SH-4000 as a base, the SHA-4000 integrates Swiss automation to create a standard, robust, high-production system that requires minimal operator attention. The automation package consists of proven part handling technology combined with heavy-duty production part fixturing. The system is engineered to optimize productivity and flexibility, with a focus on reliability and maintainability.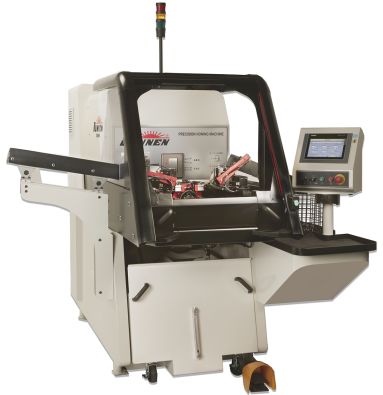 The SHA-4000 handles bore diameters from 1.5 to 101.6 mm (0.060" -- 4.0"), and is capable of processing a wide variety of part sizes, configurations, and materials. It has a 4.1-kW (5.5 hp) spindle drive and 2.5-kW (3.4 hp) stroker drive. Spindle speed is infinitely adjustable from 200 to 3,000 rpm, with stroke rates of 10 to 550 SPM. The machine's servo ballscrew stroker delivers extreme precision and repeatability for honing in blind bores, while a longer stroke length of 400 mm (15.75") allows the SHA-4000 to take on deeper bores. For fastest setup, the machine's front and rear stroking positions can be set with a joystick on the operator station.
Sunnen's patented servo-linear hybrid feed system produces consistent, predictable performance throughout the pressure range and delivers superior feed control for small bore processing. Cutting pressure can be adjusted in 4.5 N (1 lbf) increments to a maximum of 2,224 N (500 lbf). High cutting pressure capability and two-step honing deliver fast stock removal coupled with a precise finish step, all in one operation, with unmatched bore accuracy and repeatability.
The machine's true-running bearing spindle with direct collet connection allows quick changeover when using high-production MMT tooling and an easy-setup and runout-adjustable adapter enable the use of standard Sunnen mandrels as well. Standard features, such as cycle-time control and automatic size control, prevent glazing of the abrasives and allow for seamless, efficient part production.
The new digital honing indicator is user-configurable, and other standard control features include zero shutoff, stone wear compensation, feed speed regulation (stone saver), spindle reverse, speed changes while in cycle, inch/metric selectable units, system diagnostics, cycle dwell, in-process short stroking and 13 operator languages.
A 225-mm (9-inch) touchscreen Siemens PLC control features intuitive setup and run screens to allow inexperienced operators to run the machine as efficiently as a veteran. Both front and side access to the workzone enhances operator ergonomics during setup and facilitates integration with the part-handling automation. Fast changeover is made possible with "saved" setups in the control that can be quickly retrieved. The system is capable of storing 1000+ different part setups.
The SHA-4000 easily adapts to floor space limitations with an electrical cabinet that can be specified on the rear or either side of the machine. The new, easy-to-maintain standard coolant system, with a PF filter cartridge standard, is almost 70 percent larger than earlier machine models at 208 L (55 gallon) capacity. The unit is equipped with quick disconnect lines, a level gage and is easy to move, for ease of maintenance. The machine complies with U.S. and European safety requirements and is proudly made in the USA.
Want more information? Click below.