Here's What You May Have Missed at IMTS 2016
IMTS 2014 was a tough act to follow, yet this year's show succeeded again, both in terms of quantity and quality.
Attendance for the 6 day show topped 2014. The 31st edition of the show was the third largest in number of registrations (115,612) and in net square feet of exhibit space (1,370,256). This show hosted the highest number of exhibiting companies ever (2,407). After move in, the building was 76 million pounds heavier. In addition, this year's extremely successful Smartforce Student Summit drew a record number of more than 17,000 students and educators.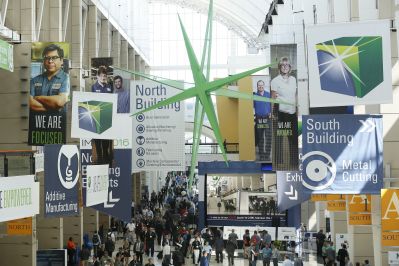 But Peter Eelman, AMT Vice President -- Exhibitions & Business Development, stressed that IMTS is about much more than sheer attendance numbers: "IMTS has grown not only in size, but in the overall scope of manufacturing. There are more compelling reasons for people to attend. Whether they come to research new technology, evaluate vendors before purchasing, find solutions or connect with the leaders in the manufacturing industry, there is simply no substitute for attending IMTS."
"Above all, IMTS is about technology, and there was plenty on display this year, particularly in AMT's Emerging Technology Center. The exhibition focused on leading-edge technologies that are on the verge of going mainstream, and visitors literally saw that principle on display in the ETC and in the Additive Manufacturing Pavilion located right next to it.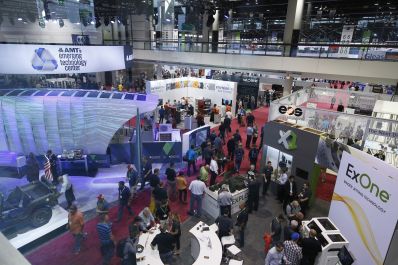 The centerpiece of the ETC was the AIME project, led by Oak Ridge National Laboratory. AIME combined additive technology with an integrated energy system in which power is shared between a hybrid electric vehicle and a building that produces and stores its own energy. Many components of both are 3D printed.
The AM Pavilion featured 19 companies with equipment capable of producing production parts in a wide array of materials, including metal and plastic. Eelman also suggested that additive is on the verge of being applied to much larger metal parts, such as energy generation turbine blades. "I think this will be the show that people will remember for additive going mainstream," he says.
The dominant technologies at IMTS 2016 were additive manufacturing, robotics automation and an increasing digital thread, according to Tim Shinbara, AMT Vice President -- Manufacturing Technology. He noted specific nuances within each of these trends.
"Four years ago, only one company exhibited a hybrid machine. At IMTS 2016, we had multiple companies demonstrate machines with both additive and subtractive capabilities, meeting the supply side demand for structural metallic components," said Shinbara. With traditional CNC manufacturers becoming more involved with additive, he believes that they will apply their knowledge of industrial requirements when building hybrid machines.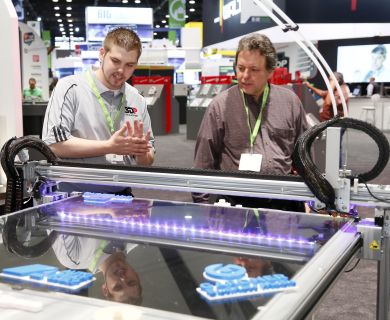 On the automation side, embedded sensors and processors moved closer to the moment of inertia, enabling split second decision-making that prevents collisions or enables a smooth, fluid and rapid response. "Moving robotic intelligence nearer to the end of the arm enables more collaborative manufacturing where humans and robots can work closely and more safely together," said Shinbara.
With regard to digitization, numerous companies introduced equipment with Industrial Internet of Things (IIot) capabilities. "We're seeing an acceleration and acceptance of protocols such at MTConnect. This 'data dictionary' enables the creation of a digital thread linking components, processes and analytical tools," said Shinbara. He foresees that, by IMTS 2018, C-suite business decisions will be made based on real-time data being pulled from the production floor and among facilities.
Eelman felt the same way about digital manufacturing (a focus of 2014), with the broad adoption throughout IMTS of MTConnect, the data exchange standard that enables greater interoperability among controls, devices and software applications. He said the ability to exchange data is quickly becoming a given with manufacturing equipment, and now that more analytics applications are in place, companies are finally getting a handle on what's happening on their shop floors. "Just a few years ago, few manufacturers really understood what 'data analytics' meant, and now you are seeing it everywhere," he said.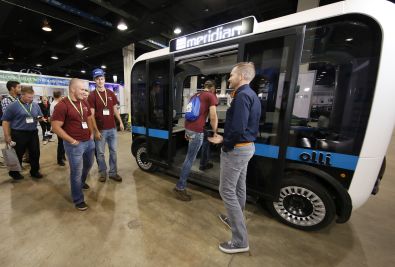 Many attendees took a trip to the future at the IMTS Ride Experience, where they took a spin in Olli, an autonomous (driverless) transport vehicle created by AMT partner Local Motors. Not quite a car or bus, Olli is intended to be an on-demand, first- or last-mile transport for community hubs. At first glance, it might appear to be a concept vehicle, but it is not. It is expected to be on the road within the year.
Equipped with IBM Watson Internet of Things (IoT) technology, Olli is more than just an intelligent and entertaining ride. Olli represents how Direct Digital Manufacturing (DDM) and 3D printing are fundamentally changing the way manufacturers create products, in turn creating a future where product development timelines are significantly reduced.
"The vehicle will have a huge impact both on the transportation and manufacturing industries," said Local Motors CEO Jay Rogers. "Our capabilities with DDM will allow us to make this one of the most adaptable vehicles ever created. The use cases for Olli are nearly endless, from navigating commuters around the Loop in Chicago to traversing a corporate campus in a rolling conference room. The way we build this vehicle will change the way people think about vehicle production and manufacturing."
In just 2 years, attendees and exhibitors will re-unite in Chicago September 10-15 for IMTS 2018.
Want more information? Click below.