Robotic Joining System -- With New Auto Tool Changer -- Designed to Weld Lightweight Materials in High-Production Automotive Environments
Coldwater Machine Company has announced the addition of automated tool change capability to its SpotMeld™ robotic joining system.
Capable of volumes required for high production environments, SpotMeld enables the joining of aluminum (1000 -- 7000 series), magnesium, non-ferrous and dissimilar sheet materials, which has proved problematic with traditional joining technologies.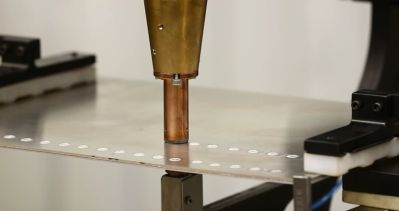 SpotMeld systems can be mounted on any industrial robot or retrofit for replacement of existing processes such as resistance spot welding, laser welding and riveting.
"To achieve vehicle lightweighting strategies, automakers are moving to mixed material designs, which have been particularly challenging in the welding of body panels," said Coldwater's Dan Barry, vice president of sales and marketing. "The SpotMeld system is designed to join a variety of materials and meet the production requirements of today's automotive manufacturing environment."
The SpotMeld process is based on Refill Friction Stir Spot Welding (RFSSW) technology. It uses rotational friction to heat the materials along with pressure to forge together the parts using wear-resistant tooling to join two or more surfaces.
In addition to joining lightweight materials, benefits include high quality solid state joints that are near original material strength, a small heat affected zone, consistency in weld duplication and faster weld times -- as well as being environmentally cleaner and safer with no filler material, spatter, smoke, radiation or shield gasses.
As compared to laser welding and other aluminum-joining techniques, SpotMeld is an easier process to fixture and the automated tool change capability saves significant time as compared to self-piercing rivet changeover. Additionally, a variety of weld recipes can be used on demand by the robot controller, which results in a very flexible production system.
A major advantage of the Coldwater system is that the tool doesn't fully penetrate through the bottom sheet, leaving a smooth surface with potential for use on exterior body panels. Alternative friction spot welding techniques typically use a solid pin that does not retract leaving a surface that has some material off-set on it as well as a 3-4mm hole in the center of the weld.
Want more information? Click below.