IMTS Visitors Will Get Chance to Ride "Olli" – World's First Self-Driving Electric Vehicle
"Olli's" manufacturing and operation will demonstrate the convergence of technologies showcased at IMTS, including 3D printing, the Internet of Things and complex interactions with machines via the human voice.
IMTS has partnered with Local Motors to offer the IMTS Ride Experience featuring the breakthrough technology in "Olli," the first self-driving electric vehicle equipped with IBM Watson Internet of Things (IoT) technology.
Built by Local Motors, Olli can carry up to 12 riders and will navigate a track in the C Hall of the North Building at IMTS 2016. Limited to about 5 mph for show purposes (but capable of 25 mph), Olli uses the cloud-based cognitive computing capability of IBM Watson to analyze and learn from high volumes data produced by more than 30 sensors embedded in the vehicle, including cameras, GPS and LIDAR (Light Imaging, Detection, And Ranging).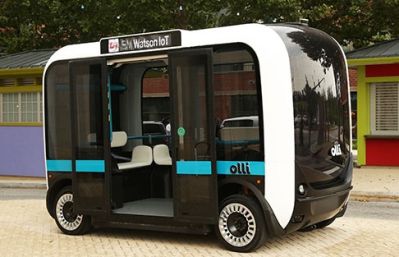 The IMTS Ride Experience offers show visitors a ride in Olli, a self-driving vehicle from Local Motors featuring IBM Watson, which enables riders to ask the vehicle questions in a normal human voice.
Olli was designed from the ground up by Local Motors, the company that shook up the manufacturing industry when it 3D-printed and assembled a car, the now-famous Strati, live in less than two days at IMTS in 2014.
"Our intent this year was to create an unforgettable experience for IMTS attendees by offering them a ride in an autonomous vehicle," said Local Motors CEO Jay Rogers. "IMTS draws the world's top minds in manufacturing, and we're excited to give them a ride in the self-driving vehicle of the future."
"IMTS and Local Motors once again partner together, this time not just to show the world the practical applications of leading edge technology, but to enable IMTS visitors to have a personal experience with technology," says Peter R. Eelman, Vice President -- Exhibitions & Business Development, AMT -- The Association for Manufacturing Technology, the parent organization of IMTS.
An Interactive Experience
Designed for travel in dense, urban areas, college and corporate campuses, riders can "hail" Olli via an app or a kiosk. While cloud analytics and live data enable Olli to react faster than any human, a remote operator provides human supervision.
To enhance the autonomous vehicle travel experience, Olli uses Watson's capabilities to enable riders to ask complex questions in "natural language" voice. Want to know the top spots for deep-dish Chicago-style pizza? Want to learn more about the vehicle's construction and technology? Just ask Olli. In its real-life testing locations (currently National Harbor, Maryland and Las Vegas and Miami later this year), Olli takes route instructions and explains what is happening during the trip.
"While creation of the world's first 3D-printed car at IMTS two years ago was groundbreaking, we wanted to enable visitors to interact with advanced technology at this year's show," says Rogers.
Want more information? Click below.