First Self-Maintaining Air Cleaner for Steel Mills: Lasts 2 Years Rather Than 7 Days for Traditional Filters
The Systems Group has introduced the first auto-cleaning air filtration system for steel mill transformer vaults, motor control rooms, air compressor systems, engine intakes and other critical spaces.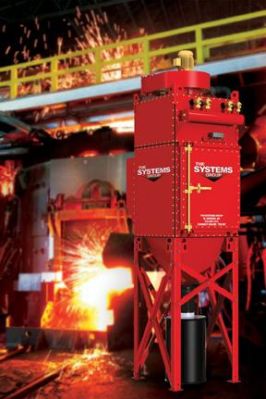 Through a strategic partnership with Camfil APC, a global leader in industrial air pollution control, the two companies have developed the Self-Maintaining Air Cleaner (SMAC) designed specifically for the harsh environments that exist in steel mills.
While Camfil APC will contribute their expertise in the latest air filtration R&D and product manufacturing, The Systems Group will engineer, install and maintain the SMAC through their Systems Plant Services division. The program will initially target North American steel mills.
Critical airflow areas in steel mills have traditionally been maintained with standard HVAC filters. In offices and homes, standard HVAC filters can last 3-6 months; whereas in steel mill environments, filter life is cut down to days, resulting in environmental waste and key failure points if not changed regularly. The most critical of these failure points occurs when HVAC filters fail on transformer vaults and motor control rooms, resulting in highly conductive steel dust accumulating and arcing across high voltage electrical components.
Adapted to the steel industry and built with one hundred percent American-made steel, the SMAC coupled with high efficiency HemiPleat® filters and self-cleaning technology results in filter service life of two years or longer (dependent on application) with minimal maintenance, instead of the 2-7 day service life of traditional HVAC filters in steel mill applications.
Camfil APC and The Systems Group have designed a system to provide proven, reliable clean air to all the critical systems located in steel mills, eliminating tractor-trailer loads of used HVAC filter waste and ensuring lower maintenance costs, fewer critical failure points and fast CapEx payback.
Want more information? Click below.
Copyright © 2019 by Nelson Publishing, Inc. All rights reserved. Reproduction Prohibited.
View our terms of use and
privacy policy
::m::