3 Ways Advancements in Video Measuring Systems Can Help Your Plant
Improvements in measuring systems, as recently established in optics and metrology grade cameras, will be featured in the Quality Assurance Pavilion at IMTS 2016. The Quality Assurance Pavilion, located in the East Building at McCormick Place, showcases metrology equipment and systems that keep manufacturing processes on track, as well as the equipment that will check the accuracy of manufacturing equipment.
"Advances in optics and metrology grade cameras have led to a new class of Large Field of View (LFOV) video measuring systems that can image as much as 3 or 4 square inches of a part and make dimensional measurements instantly," says R. Stephen Flynn, President of Optical Gaging Products (OGP®).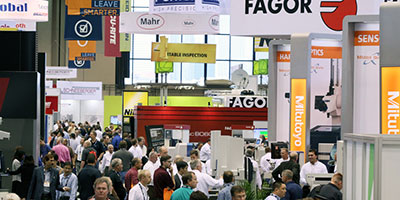 In terms of how far technology has come, "Massive improvements in computers and electronics over the last five to ten years have raised the bar for all quality and metrology systems -- particularly non-contact metrology," says Flynn. "The benchmark performance (speed and accuracy) of a video measuring system has easily doubled in the past ten years, while the cost has remained about the same."
In addition, recent improvements in software and analysis tools allow coordinate measurements to be compared directly to CAD models. Very complex Geometric Dimensioning and Tolerancing (GD&T) scenarios can be evaluated instantly, and predictive models allow a tightly closed loop between CAD, CAM systems and dimensional measurement systems.
"These advancements help in three ways," says Flynn. "First, measurement data is available quickly enough to make real-time process adjustments. Also, dimensions can be measured near the production line that previously required highly skilled and experienced toolmakers to measure in a lab. Finally, data from multiple measuring machines or multiple locations/suppliers can be normalized and compared directly to CAD models."
As a result, operators with little or no metrology training now make measurements right on the shop floor. The benchtop LFOV systems allow parts to be placed randomly without fixturing and measured without a pre-programmed measurement routine. The system recognizes the part and measures the critical dimensions automatically. "As precision measurement becomes simple and easy, it becomes practical to do more of it, which results in improved quality and lower costs," says Flynn.
Want more information? Click below.
IMTS/Quality Assurance Pavilion