Ergonomic VTC Easy to Use for Small Production Runs on a Variety of Parts
EMAG's VM 9 vertical turning center is designed for the manufacture of individual and small production runs for a wide variety of parts. The heavy-duty base of the machine is made of MINERALIT® polymer concrete. The magnificent damping properties of Mineralit®, combined with the compound slide on the X- and Z-axes ensure excellent machining quality, high speed processes and short idle times. The main spindle provides the necessary power with an 83 kW rating and torque of 990 Nm.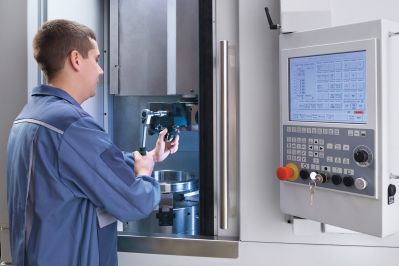 Flexibility for Turning
As a part of the EMAG modular standard product family, the VM 9 was designed as a vertical turning center, which combines a reliable design and an extensive range of equipment. Manufactured to machine chucked components with a maximum diameter of 450 mm (17.7 in.), the machine features a tool turret which can be fitted with up to twelve tool positions, depending on the tool interface (BMT or VDI). The turret can also be equipped with driven tools to perform drilling or milling operations. The integrated probe allows for complete process reliability by performing continuous quality control tests on the workpieces. These features make the VM 9 extremely well equipped to perform a wide variety of production tasks and to produce a wide range of workpieces.
Ergonomic Maintenance and Loading
The ergonomic design of the machines is evidence that decades of experience led EMAG to design the machine with the users in mind. Both the machining area and all maintenance components are easy to access. "This is a major benefit of the VM 9 for our customers," explains Georg Händel, Manager of Technical Sales at EMAG Leipzig Maschinenfabrik GmbH. "It's a major advantage for customers who have to machine many different workpieces or various part families."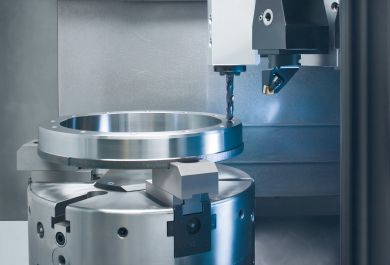 With the VM 9, EMAG offers a new machine system for chucked parts, designed for a wide variety of workpieces in many different manufacturing scenarios. Whether components for trucks, construction and agricultural machines or for mechanical and plant engineering, the VM 9 is ideal for practically every sector. The excellent accessibility to the machining area makes the machines an all-round solution for turned parts.
Benefits of the VM 9 at a Glance:
Dynamic axes for short idle times and fast machining processes
All the service units are easy to reach
Axis monitoring by rotary, indirect absolute encoders. All axes include fully encapsulated linear glass scale (optional).
Want more information? Click below.
Copyright © 2018 by Nelson Publishing, Inc. All rights reserved. Reproduction Prohibited.
View our terms of use and
privacy policy
::m::