Touch Robot Features New Tool Changing Option That Expands Automated Finishing Capabilities
Robotic automation is not common in the metalcasting industry because of the high variation in the part and excess material. However, Force Robots plans to expand finishing automation with a new tool changing option for their Touch Robot.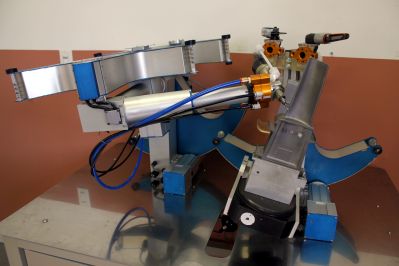 The Touch Robot is a table-top finishing system that uses the same hand tools (die grinders, belt grinders, grinding disks) that an operator would use. It accommodates part variation by working by force.
Instead of rigidly following predetermined trajectories, it applies pressure to the part, which allows the part surface to determine the tool path. By measuring the tool path and comparing it to the part's CAD model, it detects excess material and adjusts its actions to focus on the required areas. Leveraging this capability with new autonomous behaviors and the ability to change tools will enable the Touch Robot to progress from removing heavy material to performing finer finishing in a single part setup.
To meet the need for high precision machining and measuring in the aerospace industry and elsewhere, Force Robots is also introducing a high accuracy option for the Touch Robot.
Typically, robots use motor encoders to measure arm position. Non-linearity and windup in the transmissions produce poor accuracy, however. The new option places high resolution encoders on the arm links. By directly measuring joint positions, the imprecision of the motors and transmissions is circumvented. The Touch Robot will gain CMM-like measurement capability to not only finish parts with higher accuracy, but to also perform spot inspections.
"The key to automation is versatility and adaptability, particularly in high product mix environments," says Steven Somes, President of Force Robots. "The Touch Robot could already adapt to wide variation in part shape and finishing requirements, but was limited to what it could do with one tool. Now that it has access to the same range of tools that human operators use, and can make precise measurements, it can perform most of the finishing operations required by foundries and other component manufacturers."
The new high accuracy Touch Robot with tool changer will be introduced at IMTS 2016.
Want more information? Click below.