Regional Manufacturing Expo Offers In-Depth "Hands On" Experience – Is One Coming Your Way?
Regional expos, while generally smaller than the national shows, still offer hundreds of manufacturing services, and the "boutique" nature of these shows allows the exhibitors and attendees more time to get into the details of a project.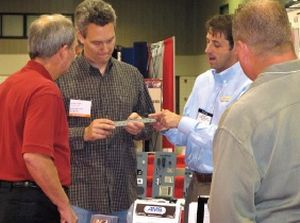 Kevin Woods, who produces AmCon Contract Manufacturing Expos in Seattle, Orlando, Denver, Kansas City and Phoenix in the spring and Rochester, NY, Dallas, Salt Lake City, Detroit, and Fort Lauderdale in the fall, noted that, "Attendees can bring their prints and parts for review by the technical people staffing the booths. These are serious working shows where a lot can be accomplished in a very short time. Because of their regional nature, they are also more convenient, and cost less in terms of travel dollars and time."
According to Woods, "At these regional events engineers and buyers can investigate a variety of manufacturing options and find the best processes and materials for their applications. They can find sources for engineering, design, prototypes, forming, fabricating, machining, finishing, assembly and electronic manufacturing services all under one roof. They can also get quotes on current projects and compare quality, pricing, and lead times from multiple vendors all in a few hours."
Effective manufacturing expos provide a "hands on" and one-on-one education. Attendees can see actual parts that other OEMs are using in their products. Woods notes, "Since the exhibits are staffed with top management and technical personnel, it's possible for the attendees to have in-depth discussions of their projects regarding design, materials and production issues."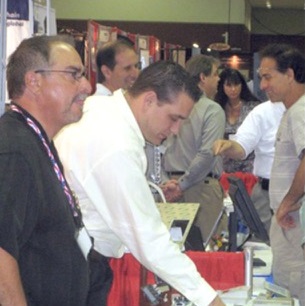 Unlike many manufacturing conferences, AmCon Expos are free and include educational seminars on a variety of manufacturing processes and quality issues. Engineers and buyers can attend the seminars and then visit the exhibits to see how the various processes are being applied.
Purchasing and Engineering Attend as Teams
The highest percentage of regional manufacturing expo attendees are engineering professionals (design engineers, manufacturing engineers, and quality engineers), followed by purchasing, procurement and supply chain managers. Often, engineering and purchasing teams from the same company attend together. This allows them to address cost issues, along with design and quality issues, and to get quality products to market faster at a lower cost. Speed to market is extremely important in today's competitive manufacturing environment and having so many resources together under one roof is a huge advantage.
Eric Smitt, Sr. Electrical Engineer of Lockheed Martin Space Systems recently attended a local AmCon Manufacturing Expo and noted, "I came to the show to find alternative contract manufacturers for some of our products that will be built in the future. I found a good mix of contract manufacturing services -- metal, sheet metal, finishing everything you really need for manufacturing a product."
Similarly, Bob Schultz, Director of Operations with Seal Dynamics/Heico commented, "I met several top quality suppliers here. I contract work out all over the country and this is the one place I can make a lot of contacts in a short period of time. The show was excellent. I made several contacts for new projects I have coming up that I'm ready to issue some RFQs for. I would recommend it highly."
Want more information? Click below.
AmCon Contract Manufacturing Expos