Latest EDM Technology on Display at IMTS
Much has been written about the offshoring of U.S. manufacturing, but some experts see a re-shoring trend due to the increasing demand for micro components produced by high precision EDM (Electrical Discharge Machining) technology.
"The American machinist has higher expectations for quality, accuracy and productivity, and that attracts customers to the U.S. market," says Gisbert Ledvon, Director of Business Development, GF Machining Solutions LLC. "To find EDM technology that enables a machine shop to differentiate itself, I can think of no better place than IMTS -- The International Manufacturing Technology Show."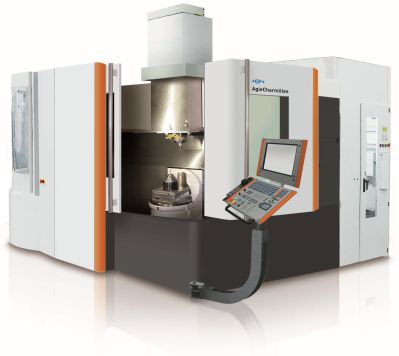 For IMTS 2016, which runs from Sept. 12-17, 2016 at McCormick Place in Chicago, visitors can find EDM technology concentrated in the EDM Pavilion, located in the center of the East Building. In addition, companies demonstrating EDM along with other technologies are located throughout the show, including GF Machining Solutions in the South Building.
"IMTS provides the perfect overview because a machine shop owner can evaluate the entire spectrum of EDM technology in one location," says Ledvon. "That said, I don't think shop owners want to be mainstream anymore. They want high-end EDM technology and seek customers that challenge them to deliver innovative solutions, such as 1-micron accuracy."
EDM Advances on Display
"If you think of EDM as a mature technology, think again. IMTS 2016 will expose you to new machines capable of greater accuracy and enhanced surface finishes," says Peter R. Eelman, Vice President -- Exhibitions & Business Development at AMT -- The Association for Manufacturing Technology. "We're especially gratified to see the incorporation of the MTConnect communications protocol in EDM machines being demonstrated at the show." AMT and IMTS played an integral role in the development and launch of MTConnect.
Protocols such as MTConnect enable faster and better communication between devices and software controls. The ability to monitor and analyze more data translates into tangible benefits, such as 1-micron accuracy. By placing advanced temperature sensors in the casting, the dielectric and the work zone and connecting them to CNC controls, today's EDM machine can maintain the casting at a consistent 68° F (20° C), the temperature at which dimensions are measured. By eliminating the variables related to thermal expansion or contraction, the machine can cut with greater accuracy and repeatability.
In another trend shift, more EDM machines offer automatic wire threading technology. These machines make a first, faster cut with larger diameter wire (e.g., 0.01 inch) and then automatically switch to a smaller wire diameter (e.g., 0.004 inch or finer) for complex parts.
"Users can now purchase a single machine that runs unattended instead of one machine for a coarser cut and a second machine for a finer cut," says Ledvon. "Operators are free to attend to other tasks, don't have to transfer parts between machines and don't have to worry about accuracy errors related to cutting on two different machines."
Advances in vision systems, now incorporated into the EDM machine, also increase quality. These systems compare the shape of the contour just cut with a 3D model of the part. If the system senses any deviation from the desired dimensions, it will automatically make adjustments to the next part.
"The current generation of wire EDM machines basically incorporate smart machine capabilities," says Ledvon. "In-process inspection eliminates one step of the quality assurance process while minimizing scrap or rework."
The Next Generation
With advanced touch screen controls that greatly differentiate it from old-school milling machines, sophisticated EDM systems can better attract people interested in working with advanced equipment for a living.
"EDM enables near perfect predictability and unmatched repeatability. Its higher level of automation sets young operators up for successful results, and that makes machining a more attractive career," says Ledvon.
"Today's generation does not want to use yesterday's technology," adds Eelman. "Whether you're evaluating career options, a shop owner looking to attract new customers or an industry representatives looking for greater value, you can find answers in the EDM Pavilion."
Want more information? Click below.