Enhanced Bar Feeder Automatically Loads Small Bars Without Failure
LNS will be introducing the Express 220 S2 Automatic Magazine Bar Feeder at IMTS 2016.
The automatic bar feeder loads 12' long bars with diameters from 2 mm to 20 mm and, with bar preparation, up to 26 mm to accommodate 20 mm machines with 26 mm bar capacity.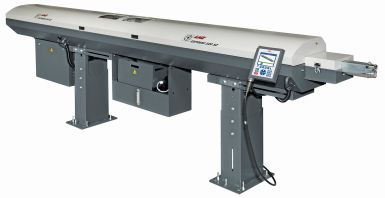 The enhanced bar feeder uses a simple loading assistance design for small diameter bars with a proprietary, automatic loading mechanism and bar selection system to precisely and consistently load small bars, especially in the 2 mm to 4 mm diameter range, without failure.
Built on the proven Express 332 S2's rigid platform, Express 220 S2 provides exceptional vibration damping, quick changeovers and a host of exclusive features that improve productivity and reduce production costs, including:
Standard, high-capacity, 240 mm wide magazine tray and optional extended capacity magazine tray for unattended and lights-out production.
Patented, high-speed, headstock synchronization system that meets the requirements of today's sliding headstock machines.
Sturdy, fully automatic, 6" hydrostatic front stabilizer that eliminates residual vibration between the bar feeder and the lathe.
A prompting, hand-held HMI with touch screen for easier operation.
The latest servo drive and PLC technologies.
Ethernet readiness with a 500 parts library that reduces changeover time and material waste.
Optional, proprietary retraction system that facilitates easier maintenance and provides the ability to perform non-guide bushing applications.
Want more information? Click below.