IMTS Changes Colors -- Unveils Newest Hot Air Balloon
IMTS -- The International Manufacturing Technology Show debuted its newest hot air balloon showcasing the new IMTS logo and brand colors of neon green and royal blue.
The iconic mascot of the Show since 2004, the IMTS balloon honors the rich heritage of American manufacturing and the innovation and excitement of the IMTS Show held every two years in September. IMTS 2016 is Sept. 7-12 at Chicago's McCormick Place.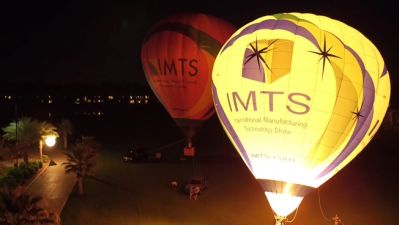 The first IMTS balloon made its inaugural flight in 2004 with a purple design, and the second version in 2008 with an orange and ribbon striped scheme. The balloons have participated in balloon festivals and tours around the U.S. The 2008 balloon recently completed its farewell tour, which began at the 2015 Kentucky Derby Festival, April 23-25, in Louisville, Ky. As part of the farewell tour, members of the IMTS community participated in a contest and won free IMTS balloon rides.
Peter R. Eelman, Vice President -- Exhibition and Communications, AMT -- The Association For Manufacturing Technology stated, "For the past 12 years, a conservative estimate of 2.5 million people have seen the IMTS balloons in both public and private events, and numerous more have seen the balloons on T.V. broadcasts, Web, print media, and on the wall of countless manufacturing plants by means of the IMTS balloon calendar. The IMTS balloon remains an integral part of the Show in Chicago, but also extends our brand well beyond the six days of the Show."
All three IMTS balloons were made by the American company Lindstrand Balloons in Galena, Ill., and the balloons are operated by Aerial Advantage, Inc. of Columbia, Missouri.
IMTS 2016 Balloon Event Schedule
April 28-30: Louisville, KY -- Derby Festival
June 10-12: Waterloo, IA -- Waterloo Days
June 24-26: Howell, MI -- Michigan Challenge
July 29-31: Readington, NJ -- Quick Chek Festival
August 10-12: Findlay, OH -- Flag City Balloon Festival
Sept 12-17: Chicago, IL -- IMTS
Oct 1-9: Albuquerque, NM -- Balloon Fiesta
More information or to register for IMTS, click below.