Diamond Burnishing Tools Replace Secondary Processes While Producing a Mirror-Like Finish
Diamond Burnishing Tools produce an ultra-smooth, mirror-like surface finish on linear surfaces in a single pass.
This cost-effective, easy-to-use tooling from Monaghan Tooling Group improves surface irregularities and tool marks, producing optimum surface finishes of 4-8 Ra. This proven technique can eliminate secondary processes such as grinding, honing and polishing by automating those processes in the primary CNC machine. Doing so saves set-up and processing time and labor costs and also enhances machinery utilization and shop floor productivity.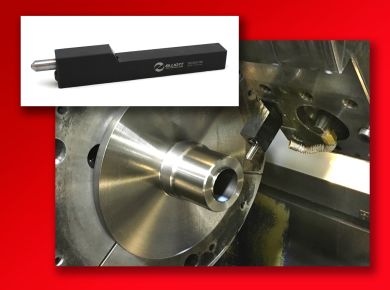 Diamond burnishing is ideal for a wide variety of parts and ductile metals under Rc40, including steel, stainless steel, aluminum and cast iron. A cast iron shaft which started at a pre-burnished 67Ra microinch surface finish yielded a 10 Ra microinch finish with a 0.0005" material compression in a single pass at 750 SFM.
Elliott diamond tools increase the surface hardness through the cold working process and compressive forces, and increase metal's resistance to fatigue and failure at stress points while producing a dense and uniform surface. They are available in inch and metric slim-line, square, offset, on-center, stick and boring bar styles.
With cycle times that are measured in seconds rather than minutes, diamond burnishing allows companies to achieve a consistent mirror-like finish and replace hand polishing. Economical, long-lasting and replaceable wear parts reduce the total cost over the life of the tool. Wear parts are easy to replace, with common tooling available from stock. Their operation and maintenance requires minimal training.
Want more information? Click below.
Copyright © 2018 by Nelson Publishing, Inc. All rights reserved. Reproduction Prohibited.
View our terms of use and
privacy policy
::m::