Free Registration for Eligible International Visitors to IMTS
International Registration for IMTS -- The International Manufacturing Technology Show -- is now open.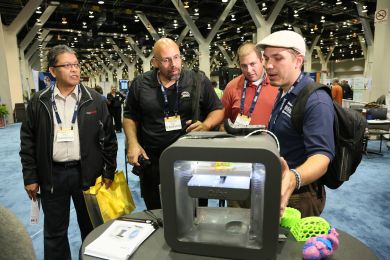 International registration, which is complimentary for individuals that meet the international requirements for working in the manufacturing industry outside of the U.S., includes floor access to 1.3 million net square feet of exhibits.
To add further value for international visitors, IMTS has teamed up with Hanover Fairs, USA (the U.S. subsidiary of Germany's Deutsche Messe) to co-locate five shows that run concurrently with IMTS: Industrial Automation North America; Motion, Drive & Automation North America; Surface Technology North America; ComVac North America and Industrial Supply North America. Registration for any show provides access to all of them.
"The IMTS and Hannover Fairs trade shows deliver an amazing breadth of current manufacturing and industrial production solutions, as well as embrace emerging technologies," states Peter R. Eelman, Vice President, Exhibitions & Communications at AMT -- The Association For Manufacturing Technology, which produces IMTS.
"Spending three days at the show enables visitors to find new solutions, envision what might be possible, and connect with the leaders in the manufacturing industry. There's no substitute for experiencing these shows in-person -- IMTS is a must-attend event."
Visas and Letter of Invitation
Once registration has been completed, and submitted before August 18, 2016, registrants will receive an email confirmation, as well as a badge via postal mail. Attendees registered after August 18, 2016 can pick up badges on-site by showing their confirmation at Visitor Registration, located in every building of McCormick Place. Registrants are encouraged to begin the visa application process early, as it can take up to three months to receive a visa.
In addition to registration and in preparation for the visa application interview, visitors may request a letter of invitation from IMTS to expedite the visa process. The letter of invitation acts as a supporting document to be presented to the Consular Officer during the visa interview.
"We recommend that international visitors request a letter of invitation well in advance of the show, four to six months to be safe," says Eelman.
Want more information? Click below.