New High Precision 3D Metal Printer Optimized for Titanium, Stainless Steel, and Nickel Super Alloy Parts
Methods 3D, Inc., a newly formed subsidiary of Methods Machine Tools, Inc. has announced the addition of the new ProX™ DMP 320 to its growing line of direct metal 3D printers from 3D Systems.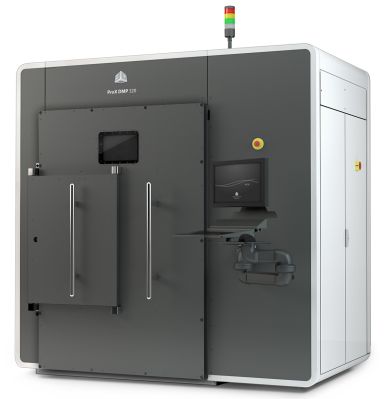 The ProX™ DMP 320 sets a new standard in metal 3D printing and is designed for high precision, high throughput direct metal printing and is optimized for critical applications requiring complex, chemically-pure titanium, stainless steel, or nickel super alloy parts.
The ProX™ DMP 320 is designed for production manufacturing, with exchangeable manufacturing modules that support rapid material change or replenishment, allowing manufacturers to keep pace with demanding production cycles and enabling efficient powder recycling.
The ProX™ DMP 320 offers a large 10.82" (275 mm) x 10.82" (275 mm) x 16.53" (420 mm) build volume and is designed to handle critical industrial applications, including those in aerospace, automotive, and medical. The printer comes in two configurations, one optimized for titanium and one optimized for stainless steel and nickel super alloys. With centralized maintenance management, reduced argon gas consumption, and serial manufacturing workflow support, the ProX™ DMP 320 also offers competitive operating cost advantages.
Methods 3D is installing the ProX™ within multiple technology centers across the US to provide product demonstration, training, support, and development of customer solutions on this exceptional production printer incorporating the full range of available materials.
"We are excited to offer the ProX™ DMP 320 along with the extensive line of 3D Systems Direct Metal Printers (DMP)," said Mr. Benjamin Fisk, General Manager, Methods 3D, Inc. "Its production manufacturing capability, in addition to high strength, high density, exceptionally pure materials at low operating costs, offers ideal additive manufacturing solutions for today's demanding applications."