Sinker EDM's Dual Heads Significantly Reduce Process Time for Large Mold Tooling
Makino introduces its EDNC21 sinker electrical discharge machine (EDM) with dual heads that provide an industry-changing advantage by improving productivity and lowering the tool build time for large molds. The EDNC21 also includes Makino's latest EDM innovations and developments including the Hyper-i control, HyperCut technology, and new HS-Rib high speed Z-Axis.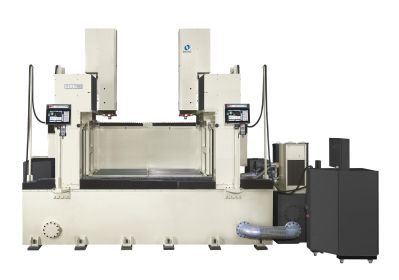 "As the design complexity of extra-large workpieces, such as automotive bumper and fascia molds, continues to grow, manufacturers must identify new means for processing a wider variety and volume of small intricate features with maximum throughput," explained Brian Pfluger, Makino's EDM product line manager. "The dual-head configuration of the EDNC21 enables shops to process multiple fine details in a workpiece at the same time, significantly reducing total processing time. Due to its rigid and precise construction, the EDNC21 is capable of achieving the same level of accuracy and surface finish as sinker EDM machines one-tenth its size."
The EDNC21 offers a sizable work envelope of 122.0 inches by 70.9 inches by 39.4 inches (3,100 mm by 1,800 mm by 1,000 mm) to accommodate extra-large workpieces, such as automotive bumper and fascia molds. The X-, Y- and Z-axes of the machine provide cumulative travels of 78.7 inches, 59.1 inches and 23.6 inches (2,000 mm, 1,500 mm and 600 mm), respectively.
Each of the EDNC21's gantry-style heads is capable of traveling up to 78.7 inches (2,000 mm) and is independently controlled and programmed using a dedicated Hyper-i control system for each head. The EDNC21 provides a total workpiece payload of 22,047 lbs. (10,000 kg) and accommodates electrode weights up to 662 lbs. (300 kg) per head.
The design of the EDNC21 includes a programmable rise-and-fall front door for easy operator access during setup and operation. Door height, which controls dielectric fluid level, can be set to match the height of the workpiece while providing optimum viewing of the machining operation.
Every Makino EDNC-Series machine also includes these features:
High-mass castings to ensure mechanical and thermal stability
Stationary table for accurate positioning regardless of workpiece size or weight
Space-saving integrated reservoir in the base casting to reduce machine size and to achieve greater thermal stability
Dual-anchored, direct-drive ballscrews that maintain precision long term
Revolutionary Hyper Technologies
Similar to other EDNC-Series sinker EDM machines, the EDNC21 is designed with Makino's proprietary Hyper technologies, which ensure an ideal mix of speed, finish, and reduced electrode wear.
HyperCut technology is a new generator function that increases power levels without requiring additional reduction on the electrode, and it improves roughing speeds by up to 30 percent without affecting workpiece accuracy or surface quality. The technology minimizes electrode wear while providing the fastest possible machining speed.
Each EDNC-Series machine is equipped with the new Hyper-i control system, which is the same system used on Makino's wire EDM products, signifying a standardization of Makino's EDM machine controls. Hyper-i improves productivity by streamlining and simplifying the machine interface so that operators of all skill levels can achieve the most efficient results.
Its 24-inch high-definition monitor provides touch-screen technology similar to that of smartphones and tablets, enabling the use of pinch, swipe and spread movements to select machining conditions for workpiece and electrode material type, and the desired feature shape and surface finish. The user friendliness of the Hyper-i control is further enhanced with the integration of on-board digital manuals, intelligent E-Tech Doctor help functions, and an e-Learning training system.
Want more information? Click below.