Small, Affordable Machine Offers All-in-One Laser Processing of Super Hard Materials
The new EWAG LASER LINE PRECISION serves as an alternative to conventional grinding and eroding methods that are unable to handle the level of precision required for processing complex cutting contours and narrow tool tolerances in CBN, PCD and CVD-D materials.
With five mechanical axes, two optical axes and short-pulse fiber­laser technology, the LASER LINE PRECISION can handle all aspects of diamond tool production in a single clamping. Automatic calibration of the axes and a 3D measuring probe with soldering error detection ensure the accurate production of rotationally symmetrical tools up to 7.87" in diameter and 9.84" long as well as indexable cutting insert diameters from 0.12" inscribed to 1.97" circumscribed.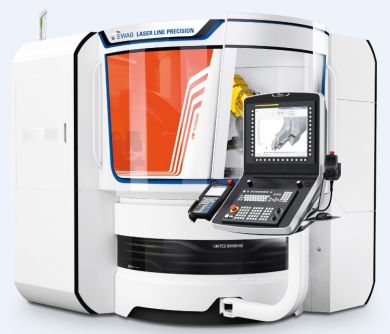 An industrial 20W short-pulse fiber laser with a 532 nm green wavelength and 1.5 ns pulse duration make the LASER LINE PRECISION ideal for processing super hard materials. Due to the short application time of the laser pulse, the machine's laser energy feeds into the tool before plasma effects are produced in the machining area.
When compared to the conventional 1,064 nm wavelength found in other designs, the LASER LINE PRECISION's halved wavelength doubles the photon energy in the machining area. As a result, the ablation rate can be increased with the same laser output. The shorter wavelength is also advantageous for machining diamond materials due to the increased absorption properties, especially in semi-transparent CVD-D materials.
EWAG's patented tangential laser beam machining, or Laser Touch Machining® technology, enables the LASER LINE PRECISION to process high quality cutting edges and cutting geometries in an efficient manner. During the process, the outer surface of the laser beams shape the surface of the tool, while the repetitive hatching pattern of the laser scanning unit and simultaneous travel movement of the mechanical axes produce the cutting joint.
The LASER LINE PRECISION comes equipped with a FANUC control, an intuitive human machine interface that contains all relevant data views and EWAG's LaserSoft with plug-in LaserPro 3D. The proprietary software packages handles laser and machine control and enables quick, easy programming of complex applications. It is also possible to integrate peripheral automation equipment with the machine such as a FANUC six­axis folding arm robot with various gripper systems to achieve increased levels of productivity.
With a compact footprint of 53.8 square feet, the robust LASER LINE PRECISION expands EWAG's laser solutions product line by providing a smaller, more affordable option to shops that seek all­in­one laser processing of diamond cutting tools.
Want more information? Click below.