Fastest Fiber Laser Cutting Machine in the Industry
MC Machinery Systems has released the fastest cutting machine, per kilowatt, in the industry -- the 3015eXZ-F60 6kW.
Built on the same proven platform as the company's eX CO2 lasers, the machine's breakthrough, the all-in-one magnetic breakaway Zoom Cutting Head, is a big reason this machine catapults Mitsubishi near the top of the fiber game.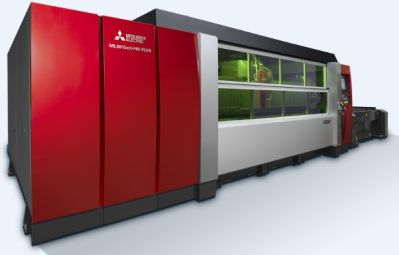 The Zoom Head has the ability to adjust the focus between a 3.75" -- 10" focal length. It also can change the mode for the laser to cut thicker materials with CO2 edge quality finishes. With Zoom Head technology, there are no cartridges to exchange or lenses to clean or replace.
"We've long been in the fiber game, but the eX-F puts Mitsubishi right in the discussion with the leading fiber laser manufacturers in the world," said Shane Herendeen, national sales manager for fabrication at MC Machinery. "Built on the same eX platform as our most popular CO2 machine, this system's top end power, revolutionary all-in-one Zoom Head, and efficiency will change the way people think of Mitsubishi Laser."
An intelligent AC servo motor drives the head along the X,Y and Z axes simultaneously in travel ranges up to 122" x 61" x 5.9" respectively. The maximum workpiece weight is 2094 lbs. and installation dimensions are 504" x 203".
The eX-F features Mitsubishi's High-Speed Control that can adjust beam on/off timing in micro-second increments and includes a timing calculator that allows the machine to deliver fast rise time when the laser needs power. Plus, Motion Cut allows for simultaneous beam on/off time and axial movement.
The self-contained controls boast latest generation computing power with a 64-bit processor, a 20-gigabyte hard drive, 15" color LCD touch screen and USB, Ethernet and Computer Link inputs.
The eX-F is also available with a 4kW resonator with an optional Zoom Head.
Want more information? Click below.