High-Performance Wire EDM's "Corner Strategy" Reduces Cutting Times Up to 18%
GF Machining Solutions has introduced the CUT E 350, the first machine in its new CUT E Series of high performance and high productivity wire EDM's.
The CUT E Series incorporates a new, large-touchscreen human-machine interface (HMI) that is intuitive in operation and includes onboard Intelligent Collision Protection, built-in machining strategies and flexible job management.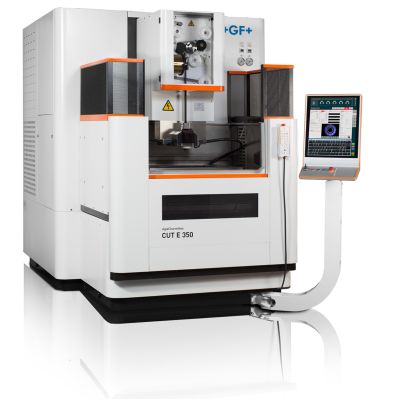 Information about geometries, machining processes and command programs is processed in a single file. This allows jobs to be transferred among different machines in the CUT E Series, with the machines automatically managing all needed modifications. Additionally, more than 10 automated measurement cycles are available to assist with workpiece preparation and the onboard AC CAM Easy allows an operator to prepare an ISO file and post-process it into a job during machining.
The CUT E Series features the modern Intelligent Power Generator (IPG) to further improve cutting speed, precision and surface quality. The machine can use dedicated wire for decreased part cost and increased throughput, and the POWER-EXPERT module automatically determines the optimal power to send through the wire, which is especially beneficial in stepped parts. The Corner Strategy module automatically adjusts parameters during changes in direction to produce sharp angles and small radii. These features combine to reduce cutting times by up to 18 percent as compared to standard machines.
Machine ergonomics and design have also been improved with the CUT E Series. The machines feature a compact, space-saving design that incorporates high rigidity to enable accurate cutting of large and heavy parts. A drop door provides easy, convenient access to the table and side-by-side filters are easily accessible to simplify maintenance.
Integrated glass scales preserve long-term, repeatable accuracy, require no recalibration and eliminate errors found in traditional screw systems due to backlash and wear. The CUT E 350 allows use of an optional large, 25 kg spool to facilitate greater levels of automation and unmanned machining. It also features a reliable wire circuit system for perfect unrolling that does not disrupt the EDM process.
Want more information? Click below.
Copyright © 2019 by Nelson Publishing, Inc. All rights reserved. Reproduction Prohibited.
View our terms of use and
privacy policy
::m::