Industrial Sump Vacuum Cleaner Recovers 1 to 2 Gallons of Liquid per Second
VAC-U-MAX's 55MW industrial sump vacuum cleaner allows operators to quickly empty machine tool sumps, machining beds, oil/water separators, parts washers, and rinse tanks, offering high volume recovery of liquids and liquid spills.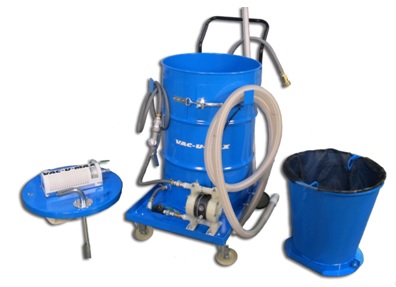 Commonly referred to as a sump sucker, the 55MW reduces the amount of accumulated chips and fines in the sump, and extends machine tool filtration systems by cleaning fluids and removing metal chips and swarf. Unlike other sump suckers, the VAC-U-MAX 55MW also works easily with 100 percent dry chips, providing more versatility in machine shops.
Included with the complete system is a chip basket and liner which separates solid particles from collected liquid at 3 to 8 liters (1 to 2 gallons) per second (60-120 GPM). With a turn of a lever, the 55MW will pump out the filtered liquid contents of the drum through the discharge hose into a central filtration system for coolant/oils or approved floor drain, at up to 53 liters (14 gallons) per minute.
The dispensing nozzle on the pump-out hose puts users in control of where and when the fluid comes out, reducing operator exposure to bacteria when emptying machine tool sumps or liquid spills. Dual swivel casters make the 66cm (26") wide unit easy to move, and with its compact size, allow close proximity to machine tools and sumps. Smoothbore hoses prevent accumulation of liquids and chips, and slotted holes in the cart base prevent pooling of fluid.
Want more information? Click below.
Copyright © 2019 by Nelson Publishing, Inc. All rights reserved. Reproduction Prohibited.
View our terms of use and
privacy policy
::m::