World's 1st Single Pitch Optical Absolute Encoder Determines Position to a Resolution of One-Billionth of a Meter
Renishaw recently received UK's Queen's Award (Enterprise in Innovation) for the development and manufacture of its RESOLUTE™ family of non-contact, optical position feedback devices. RESOLUTE enables a leap in performance for motion control systems used in manufacturing and other environments.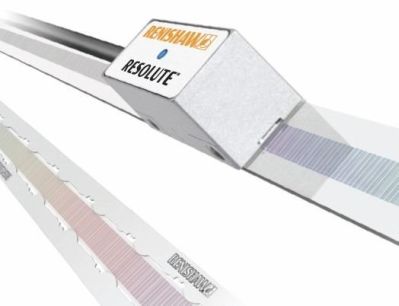 Suitable for the most demanding applications, RESOLUTE is the world's first single track fine-pitch optical absolute encoder. It can determine position to a resolution of one nanometer (one billionth of a meter) with motion speeds of up to 100 meters per second for linear position applications, and is capable of 32-bit resolution at up to 36,000 RPM for rotary (angle) applications.
RESOLUTE is used in diverse applications, such as safety-critical position feedback for medical robots, the control of precision metalworking machines, the manufacture of flat panel displays and the production of semiconductors.
"RESOLUTE is a phenomenal product that marries our years of experience and expertise in areas such as optics, high speed image processing, system engineering and precision manufacturing," said Sir David McMurtry, Renishaw's Chairman and Chief Executive. "I am proud of the achievements of the many people across the Renishaw Group who have worked tirelessly to produce a globally successful encoder product that is a world-first in its field."
Renishaw Opens New $31 Million Innovation Center in UK
Renishaw recently marked a major milestone in its growth with the opening of its new 153,000 sq. ft. Innovation Center in the U.K. The $31 million facility, located at company headquarters near Wotton-under-Edge, Gloucestershire, was formally opened in early July by Her Royal Highness, The Princess Royal.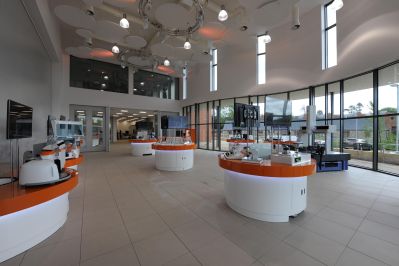 The Renishaw Innovation Center gives the company additional space to house research and development and corporate services staff, as well as demonstration, training and conference facilities. The additional space also enables Renishaw's spectroscopy and laser calibration product lines to relocate to the company headquarters site.
This first phase of the development includes planning permission to expand by another 77,000 sq. ft. The company's investment program also includes the opening of a new R&D operation within the faculty of electrical engineering at the University of Ljubljana in Slovenia, as well as other new construction in the UK.
Want more information? Click below.