Custom Built, Million-Dollar Hybrid Race and Demo Car Thrills Techies and Car Enthusiasts
If you were to dream up the perfect build project for a car, most of the pieces in the Hoonicorn RTR would be included in that blend. It's a fantasy draft for parts that includes some of the top racing parts in the world. Watch this incredibly crazy video of this modified car with state of the art materials and components.
At this year's Consumer Electronics Show, 10 of the world's largest carmakers were on the show floor -- with hundreds of tech companies showing off navigation tools, chips to unlock cars, and more applications for cars with smartphones. There was also the Hoonicorn, an over-the-top customized, 65 Mustang.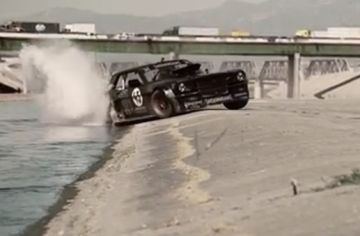 Tech and cars go together.
The first tech start-up in a garage wasn't Hewlett Packard. Back in the day, pre-Silicon Valley, it was the men and women bolting together cars, optimizing engines, lovingly perfecting car technology in their garages and taking it to the streets.
Like building a spaceship around an astronaut, this million-dollar racecar was built around a driver, the needs of his craft and the exploration of a genre.
For two years, Hoonicorn kept a secret its work at perfecting the customized Mustang. No one outside the very small and tight-knit circle knew about the project; even best friends were left out. Shrouded in secrecy, the six-cylinder 1965 Mustang Notchback 3-speed was cut and sewn back together into the Hoonicorn RTR, a hybrid race and demo car.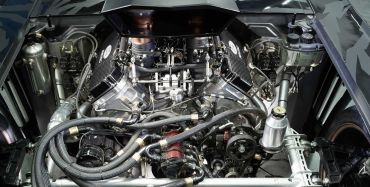 Cell phones and computers provide access to such an incredibly fast-paced information network that keeping anything hidden from prying eyes is becoming increasingly rare -- and a Ken Block Gymkhana car is on another level of vulnerability.
With over a quarter of a billion views on the Gymkhana franchise, the reveal of the next-generation car is on par with anything the automakers can throw out, which is why the Hoonicorn RTR was such a big surprise to the world. It's unconventional from almost every angle and a big departure from Ken's turbocharged, four-cylinder hatchbacks.
Underneath the Mustang body -- only the A pillar, B pillar and roof remain original -- is a fascinatingly complex web of brilliant engineering and foresight containing 800 horsepower, all-wheel drive and rally-spec demands to make it usable.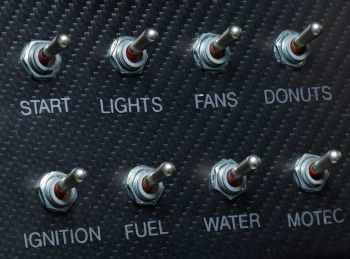 The video below was the first time Block received delivery of the car, and as you can see, everything worked as expected. "It was the most fun car I've ever driven!" Block revealed. "It really brought out something in me that I didn't know existed."
It's no surprise that Block loves turbocharged motors. His job is to know what the power delivery is like in his Fiestas, but the naturally aspirated Roush Yates V8 provided a very different, analog experience for Block. Paired with a Sadev gearbox similar to the one in his GRC car, Pirelli tires with a specially developed compound, and all the fixin's from his racing playbook, he adapted to the car almost immediately.
Want more information? Click below.