New Inverted Vertical Turning Machine Features Self-Loading System 300% Faster Than Traditional External Automation
EMCO Maier is expanding its line of compact heavy-duty inverted vertical turning machines for production with the Vertical VT400, designed with integrated automation for complete machining of cast or forged chucking parts to 400mm (15.75 in.) dia. The VT400 utilizes the machine spindle and chuck to load and unload parts.
The VT 400 accomplishes turning as well as drilling and milling operations to complete parts with swing diameters to 450mm (17.7"), lengths to 200mm (8"), and part weights to 40 kg (88 lb). It combines compact design and fully automated operation to offer a cost-effective production solution for automotive, off-road, power generation and other critical industries.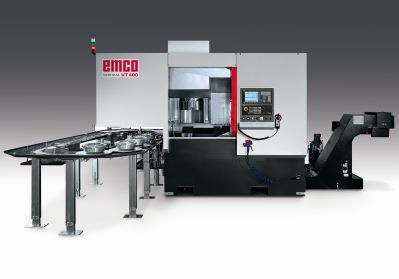 With its vertical, water-cooled, high-torque, high-power 36kW (48 hp), 4000 rpm spindle, the VT 400 makes turning, drilling and threading operations easy and keeps cycle times brief even in tough material. The direct-driven axis travel is 37.8", 15.75", ± 3.5" in X, Z and optional Y. Main spindle torque is a strong 600 Nm (442 ft lb) with special HP and torque configurations available to take on very difficult applications.
Because the VT 400, with its integrated pick-up system, self-loads workpieces, it saves the user the costs and programming time related to external automation. This loading and unloading design allows for an extremely fast part to part times of 13 sec with work pieces weighing up to 88 lbs. Compared to other traditional methods utilizing gantries or robotics, this design is roughly 300 percent faster, according to the company.
The machine carries 12 driven VDI40 toolholders capable of 5000 rpm and 40 Nm (29.5 ft lb) of torque. EMCO also offers different turret configurations such as VDI50, BMT65P. Special requests are always considered, according to the company.
EMCO has used several standard and customized conveying solutions which will accommodate a range of queue quantities. These solutions bring the parts to and from a common loading and unloading location outside the machining area to the machine spindle for pick up.
A rigid machine structure results in substantial cutting performance in serial production and is ideally suited for fine- and hard machining. EMCO utilizes especially large cross roller guide ways in each axis guarantee excellent stability despite high loads. These ways are preloaded to eliminate backlash which allways the machine to continually hold extremely tight machining tolerances in non-ideal circumstances.
The machine maximizes rigidity and stability with a steel-welded frame construction with a sand mixture for vibration-damping in the machine bed. The machine's stable and rigid structure provides an optimum thermo-symmetrical construction of the headstock. A large saddle positioned over the guideways allows the machine to remove large amounts of material under heavy loads. The robust VT 400 design has also proven to be an ideal machine for hard turning.
The new VT400 features the simple to operate and program Sinumerik 828D from Siemens with an option for Siemens ShopTurn conversational programming and the Fanuc 0i Control from Fanuc.
The basic machine also includes a coolant device and a chip conveyor, which ensures rapid, effective chip removal.
Want more information? Click below.