5-Axis Machining Center Features +30° to -120° Spindle Head -- Easily Performs Undercuts in a Single Setup
SNK America's CMV-100 brings a new level of efficiency and precision to 5-axis machining and contouring, making it ideally suited for a wide variety of demanding applications such as three dimensional work profiles for dies & molds, aircraft components and more.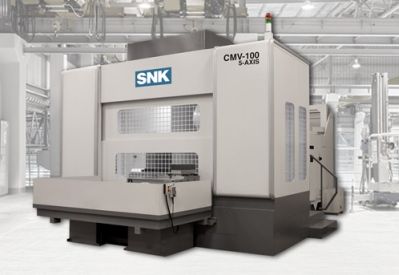 The CMV-100 features a column-feed design and construction that eliminates table overhang, assuring optimum prolonged machining accuracy. The wide +30° to -120° A-axis tilting spindle head easily enables undercuts in a single setup.
The CMV-100 utilizes a 40/30 HP spindle motor that delivers both high-speed and high-power cutting capability. The spindle speed range of 40 to 8,000 rpm with a maximum torque rating of 600 N-m (442 lb-ft) continuous allows for a wide variety of machining requirements.
Table size (W x L) is 39.3" x 39.3" with a maximum table load capacity of 3,300 lbs (w/o APC). It also features Rotary Table Dynamic Fixture Compensation which automatically compensates for work origin moves due to C-axis rotation of the rotary table. Travels (X, Y, Z) are 59" x 52.3" x 51.1".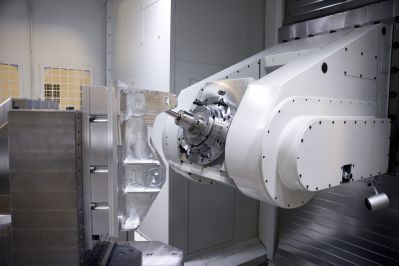 The CMV-100 employs a Fanuc 31i-B5 CNC loaded with control features that simplify even the most demanding machining applications.
Standard features include an automatic pallet changer (2 pallets), 80 tool ATC system (50-312 optional), tool axis manual movement function, scale feedback, work piece probe, automatic tool length and diameter measuring function with broken tool detection slideway covers, spindle speed and load display meters and cycle completion total shutoff function, through spindle coolant, splashguard and chip conveyor.
Optional features include mist coolant device and mist collector.
Want more information? Click below.