World's Most Powerful All-Electric Pipe Bending Machine Handles Precision Bending of 10-Inch Diameter Carbon Steel Pipes
Unison has installed and commissioned the world's largest and most powerful all-electric pipe bending machine, at the Norwegian offshore and maritime services company, Westcon Yard AS. Capable of generating a colossal 660,000 Nm of continuous, servo-controlled torque, the custom-designed machine will be used for precision bending of thick-walled carbon steel pipes up to 10 inches (273 mm) in diameter.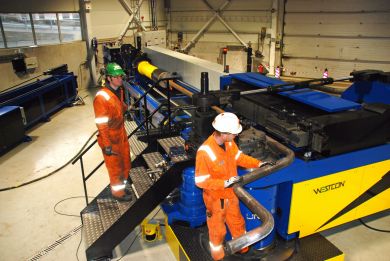 This 273 mm Unison all-electric bending machine -- the world's most powerful -- was installed at Westcon Yard's Norway facility in November 2015.
This is the second all-electric pipe bender that Unison has supplied to Westcon's pipe production facilities in Norway. The first, a 90 mm single-stack model from Unison's Breeze range, was installed at the beginning of 2015 and enabled the company to bring fabrication of all pipe sizes up to 60.3 mm in diameter in-house. It has also helped Westcon to simplify and accelerate its production process dramatically, by allowing parts to be fabricated from single-piece piping stock, instead of from multiple cut-to-length straight sections and pre-formed bend parts bought-in from external suppliers.
Westcon has similarly high expectations for its new 10-inch machine. The company now intends producing virtually all the pipe sizes that it needs for its outfitting, service and repair operations entirely in-house, without having to use pre-fabricated bend sections.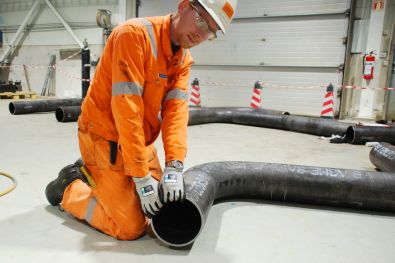 Steffen Feder of Westcon Yard shows the type of pipes that can be bent on the new Unison machine.
This application of all-electric bending technology to pipes up to 10 inches in diameter is without precedent. Although Unison's bending machines are used by a number of the world's leading ship and submarine builders to produce large pipe and tube assemblies, this is by far the most powerful that the company has ever designed and built. It highlights the inherent scalability of Unison's machine architecture and underlying motion control technology -- the company's range of all-electric bending machines now extends all the way from 16 mm (5/8 inch) to 273 mm (10 inches).
Westcon specializes in building and repairing ships for the offshore and fishing sectors, and in servicing, maintaining and repairing semi-submersible and jack-up rigs used by the offshore oil and gas industries. In recent years, Westcon has invested heavily in its pipe fabrication operations for ship and rig outfitting, with the intention of becoming a world leader in this industry.
Most of the pipes that Westcon produces are one-off items for new systems, rerouting and maintenance purposes. They are typically manufactured from carbon steel, with each pipe spool normally being up to 6 meters in length. The pipes usually form part of fresh or sea water systems, hydraulic systems, diesel fuel distribution networks or other special systems. They often involve very tight radius bends, to as little as 1.5 times outside diameter, and need to be constructed to millimeter accuracy.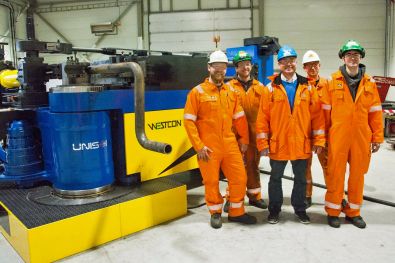 The engineering workshop's new automatic materials handling system features 9-meter high pipe storage racks and robotic feeders.
Unison all-electric pipe bending machines feature servomotor-driven motion axes and fully automated software-controlled setup. Simplicity of operation and the fact that Unison was prepared to develop custom pipe bending solutions were two of the key reasons behind Westcon's original order. Both the 90 mm and the 273 mm machines are fitted with Unison's innovative laser springback system, which automatically measures and adjusts bend angles to compensate for the tendency of tubular parts to spring back slightly after being bent. The machines also both feature quick-change tooling, which is a major advantage for applications that involve bespoke, one-off manufacturing.
The Unison machines' unique mechanical design, combined with the precision axis control capabilities of Unison's Unibend software -- especially with respect to carriage and pressure die boost -- makes it easier to achieve very accurate and repeatable results, with minimal changes to the wall thickness or ovality of the pipe that is being bent. These attributes are ideal for manufacturers of marine, offshore and subsea equipment, who invariably need to work to tight tolerances and strict process guidelines.
Want more information? Click below.