Robot Manufacturer Uses 3D Virtual Reality System to Present "Life-Like" Design Solutions to its Customers
Robotic system designer Genesis has begun using Mechdyne's breakthrough visualization system to allow customers to see a design in a 3D virtual environment that leads to a deeper understanding of the solution.
Robotic automation is not always easy to explain verbally so Genesis uses Mechdyne's virtual system to give customers a good understanding of a potential design.
Accelerating time to market, decreasing product development costs, and increasing customer engagement results when organizations pair advanced engineering with simulation. Breakthrough audiovisual (AV) and IT solutions help manufacturers gain deeper insights during product design, validation, and verification, and customer design reviews.
"The AV or visualization environment allows engineers to become immersed in their products and to see design implications that would otherwise go undetected," said Mechdyne vice president James Gruening.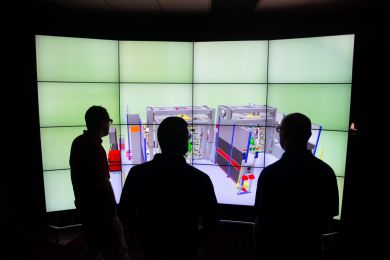 A leading provider of innovative visual information technologies, Mechdyne provides comprehensive, customized solutions that include consulting, software, technical services, and hardware integration.
A leading provider of AV and IT systems, Mechdyne has designed and integrated solutions to support advanced engineering at all types of manufacturing organizations including automotive, aerospace, consumer products, and defense contractors.
One of these organizations, Genesis Systems Group of Davenport, Iowa, knows the benefits of integrating high-end visualization with advanced engineering. As the largest builder of robotic arc welding systems in North America, Genesis combines engineering and digital proof-of-concept to ensure their robotic automation designs meet customer performance expectations.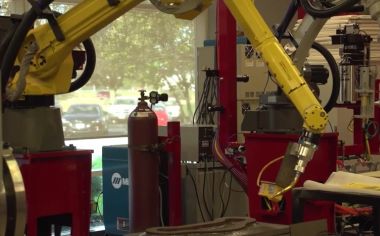 Genesis Systems Group designs, builds and implements robotic arc welding systems, assembly automation systems and robotic tooling.
Genesis focuses on next generation welding processes, fixturing, welding systems, out-of-the-box part-flow and handling concepts for the automotive industry, contract manufacturers, aerospace, as well as light and heavy industry companies.
Demonstrating their robotic systems to customers using simulation and virtual reality is a critical part of the product design process. "Our 3D Virtual Environment enables us to interact with our customers on a deeper level, and helps bring our simulations to life," comments Genesis virtual solutions engineer Travis Sample.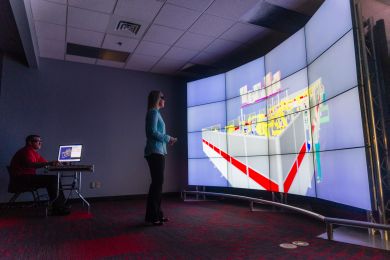 Genesis employs 3D virtual reality systems like this one to focus on next generation welding processes, fixturing, welding systems, out-of-the-box part-flow and handling concepts for the automotive industry, contract manufacturers, and aerospace.
Genesis partnered with Mechdyne to design and integrate an AV system that displays their automation and robotic designs in virtual reality. The value Genesis finds in their 3D Virtual Environment -- a curved, four-by-four tiled mobile advanced visualization solution -- doesn't stop with internal design processes, collaboration, and ergonomic testing. Interacting with their customers in the 3D Virtual Environment creates a long-lasting positive impression. "More people are coming to our facility to see their concept before they even buy anything," added Sample.
Want more information? Click below.