New Fully-Digital VMC Features Faster Tool Changes, Improved Coolant Containment, and Easier Chip Removal
Hardinge Inc. has released the all-new Bridgeport Conquest V480 APC E Series vertical machining center with Mitsubishi M70 CNC.
This new generation machine is a fully digital, high-quality machine tool, designed to achieve maximum capacity and performance in the Job Shop, OEM, Aerospace, Automotive, and Power Generation Industries and many other manufacturing sectors.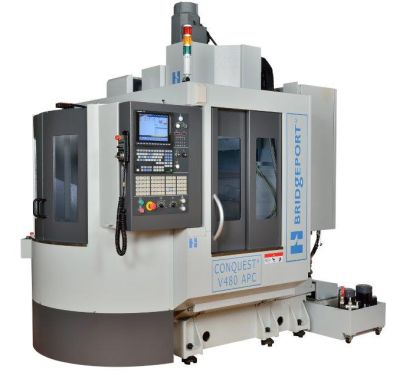 The Bridgeport Conquest V480 APC is packed with features to meet and exceed the requirements of the demanding metal-cutting market. The Bridgeport CONQUEST V480 APC E Series is manufactured from quality sourced gray cast iron. A fully digital machine with a rapid traverse rate of 1,417 IPM X, Y and Z and acceleration rates of X: 6m/sec², Y: 4.6 m/sec² ,Z: 3.75m/sec² providing a fast and accurate response to all your machining needs. This machine features a highly sophisticated yet user-friendly Mitsubishi M70 control with a 10.4" LCD.
Axis travels are: X: 18.9" (480mm) Y: 15.8" (400mm) and Z: 16.9" (430mm).
Options include 12,000 and 15,000 rpm spindle options, through spindle coolant 280 PSI, air blast, 4th/5th axis prewiring, spindle chiller, and chip conveyor.
The new CONQUEST V480 APC E Series features many improvements over the previous GX 480 APC. These include:
Improved sheet metal design that provides improved coolant containment and easier chip removal.
The operator panel moved to the side of the machine for easier setup.
An improved Automatic Tool Changer (ATC) with faster tool change times and auto ATC recovery function.
The Automatic Pallet Changer (APC) has been redesigned to allow for heavier loads. The previous model could accommodate 254 lbs (120kg). The new machine features a 440 lb (200kg) capacity. Also, the new APC provides a 4850 (2200 kg) pallet clamping force as compared to the previous 330g lb (1500 kg).
"The Bridgeport Conquest V480 APC E Series Machining Center offers a high degree of sophistication and functionality at an attractive price," states Brooke Sykes, Director of Sales and Marketing North America. "Like all Bridgeport machining centers, this machine reflects Hardinge's commitment to quality and performance without compromise."
Want more information? Click below.