Improved Cutting Edge on New End Mill Leads to Better Finish for Titaniums and Stainless Steels
With a new seven-flute, eccentric relief (ER) design, the newest addition to the WIDIA VariMill family, the VariMill III ER solid-carbide end mill, is engineered for higher metal removal, longer tool life, and improved surface finishes in demanding workpiece materials such as titaniums and stainless steels.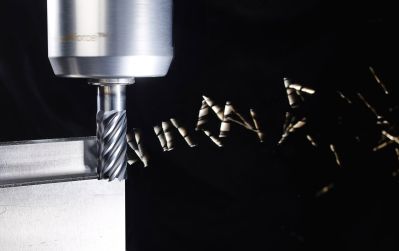 "OEMs and tier suppliers in the aerospace and energy segments who regularly face working in high-strength, low-weight titaniums and stainless steels will want to see how the VariMill III ER together with the new WIDIA Victory Grade WS15PE can improve performance," says Ron West, WIDIA product manager.
A newly developed coating and proprietary pre- and post-coat treatment significantly improves cutting edge consistency. Consistent cutting edges mean higher metal-removal rates, longer tool life, and improved workpiece surface finishes in expensive demanding materials.
The tool is designed to be a true finishing endmill with the ability to take up to 30 percent radial engagement.
"This also means VariMill III ER customers can use high-speed machining techniques such as peel milling or trochoidal machining in high-strength alloys," West adds.
Demanding markets such as aerospace and energy are defined by the need for increased efficiency. In response, WIDIA is offering the VariMill III ER in a full line of options, including two, three, and five times diameter length-of-cut and all common aerospace radii and chamfered corners, metric and inch.
With more and more additive layer manufacturing in the aerospace field, the trend going forward will be from roughing to semi-finishing and finishing operations, perfect for the increased efficiencies VariMill III ER provides.
VariMill III ER end mills also come standard with the SAFE-LOCKTM option by Haimer, eliminating pull-out risk, and making the tool assembly more stable and concentric, which in turn increases surface finish and tool life.
Want more information? Click below.