3D Scan of Chicago Art Institute Lion a Roaring Success
On September 16, 2015, for approximately three hours, Exact Metrology technicians performed a 3D scan of the huge South Lion that guards the entrance to the world-famous Chicago Art Institute.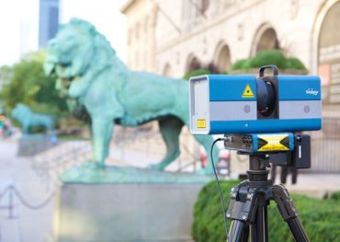 The subsequent STL file is being used by Chicago-based Met-L-Flo to generate 300 3D printed miniature lions, to be displayed and provided to visitors at the upcoming FABTECH show in Chicago, November 9-12.
Using their Surphaser and ARTEC scanners, Exact technicians built a 3D image, which was displayed on a huge monitor for passersby to see. As part of the event, which was sponsored by FABTECH show management, FMA president and CEO Ed Youdell introduced Exact president Dean Solberg and Met-L-Flo president Carl Dekker, who both detailed the work their companies were doing to complete this unique and interesting project.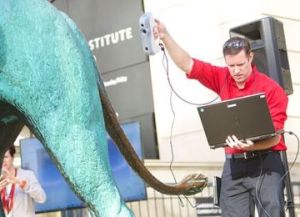 The South Lion, named Attitude of Defiance, was originally sculpted by Edward Kemeys for the 1893 Columbian Exposition in Chicago and stood on the steps of the Fine Arts Palace, which is today the Chicago Museum of Science & Industry. Later that year, the lion and his "brother," named On The Prowl, were recast in bronze and moved to the steps of the new Art Institute, where they've guarded the entrance to this day.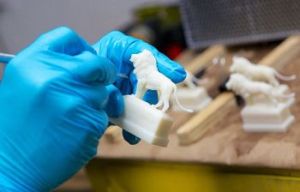 As Dean Solberg remarked, "We're creating a file with millions of 3D data points that would allow the program to accurately recreate the lion at almost any size, whether on a conventional CNC machine tool or in the new 3D printing method being used by Carl (Dekker) and his team at Met-L-Flo. Dekker noted that 3D printing of one of the seven additive manufacturing techniques his company currently employs to make not only prototypes but also functional short run production parts.
Want more information? Click below.
Copyright © 2019 by Nelson Publishing, Inc. All rights reserved. Reproduction Prohibited.
View our terms of use and
privacy policy
::m::