New Adhesive Workholding System Ideal for Awkwardly Shaped Parts
A photo-activated adhesive system, called Blue Photon, is being introduced to European markets at EMO by NCMT Fixture Solutions, Thames Ditton, UK.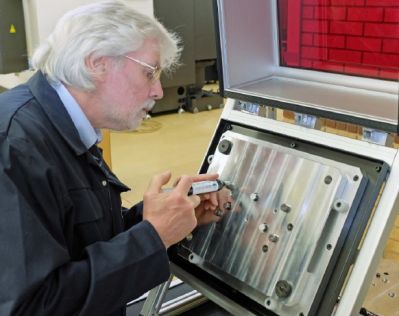 It is intended for the design and manufacture of workholding systems for machine tools and is ideal for securing awkwardly shaped parts for tight-tolerance machining and inspection.
The process involves applying an adhesive that is cured by ultraviolet light via fiber optic cables. The adhesive can subsequently be melted and the machined workpiece removed by immersion in hot water or by application of another heat source, which optimally should be at 80° C.
Alternatively, the adhesive contact points can be sheared to free the workpiece by rotating the gripper pins in the fixture plate with a spanner. No witness mark is visible where the glue was applied.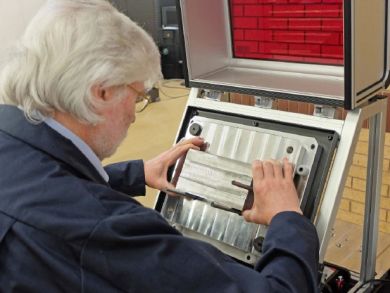 Use of the technique is predicted to grow rapidly due to its ability to hold components securely with an average shear resistance of 136 kg, yet allow cutters excellent all-round access for machining on five sides. Unlike magnetic clamping systems, it can be used to secure not only ferrous metals but also non-ferrous metallic parts as well as composites, including delicate materials.
Blue Photon is ideal, for example, for clamping gamma titanium aluminide, which is being used to produce low-pressure turbine blades for the latest generation of high-efficiency jet engines. The alloy halves the weight of aero components compared with Ti64, providing big savings on fuel burn, but is brittle and difficult to handle.
Other advantages of the clamping process are an absence of workpiece distortion, good damping properties to suppress chatter, reduced cost of fixtures for holding complex parts, and elimination of locating lugs on castings.
Want more information? Click below.