New Gear Milling Technology Reduces Cost and Dramatically Shortens Lead Times
Demands for shorter lead times are increasing in most industries. Gear manufacturers are no exception. To that end, the industry is finally converting from dedicated hobbing machines to more flexible 5-axis machines and from solid hobs, designed for each specific gear profile, to more flexible standard tools.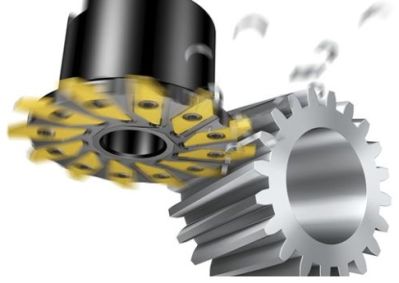 As a direct response to flexible production, Sandvik Coromant recently launched InvoMilling 1.0. To find out more about this method, the following is a Q&A with Kenneth Sundberg, general manager of gear milling solutions at Sandvik.
What is InvoMilling?
"InvoMilling is a method for machining external gears and splines with standard form cutters. It's a patented method from Sandvik Coromant, and the solution package includes tools, software and training. The solution benefits from the machine's 5-axis capability to produce many different gear profiles with the same set of tools. This makes it much more flexible for small to medium-sized batches when short lead times are crucial."
What is the Story Behind InvoMilling?
"It was actually one of our customers who asked us to find a way to shorten lead times and increase flexibility for large module gear production in a completely new plant. Dr. Stefan Scherbart, who at that time was head of our automotive application center in Stuttgart, Germany, discussed the problem with the technicians, the head of manufacturing at the company and one of our machine tool makers.
Dr. Scherbart then designed a cost-efficient method where the customer could use flexible 5-axis machines to machine complete components in just one setup. Since then, we've continuously refined the method, and in this CoroPak we launched the full package, including very sophisticated CAD/CAM software. The full package consists of the method, cutting tools, software and training."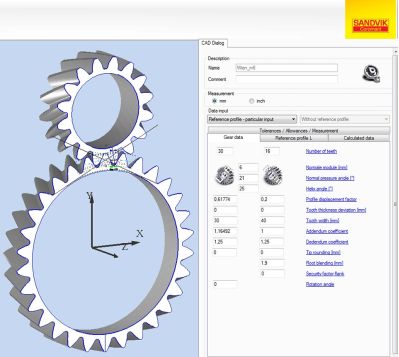 Is it a Complex and Complicated Package?
"No, it's really simple. The software is intuitive, and anyone with programming experience and basic gear know-how can manage it, but you need training to understand all the possibilities. The integrated tool library and simulation functionality are two examples. We also want to help each customer select the right tools and get them started."
Who Benefits from InvoMilling?
For small to medium batches, InvoMilling will always be a competitive alternative to other methods, especially for large modules. With conventional hobs, it's the size and shape of the actual hob that decides the profile of the gear you are producing. That's very inflexible. With InvoMilling, you can use the same tool for different profiles. Just change the input data.
Customers from the automotive, mining, infrastructure and energy segments are really interested as they develop and test different gears and produce prototypes. That requires fast throughput. Customers making parts for repairs, spare-part manufacturing and small batch sizes in general will also have a competitive advantage using InvoMilling."
What are the Greatest Advantages Compared with Conventional Hobbing?
"Flexibility, cost-efficiency and productivity. And shorter lead times. Instead of 10 to 12 weeks with conventional methods, it will take about one week for a complete gear with InvoMilling. This opens up new opportunities when it comes to stock levels both for the end user needing quick access to spare parts and for the gear shop.
I can give you one example where lead times and flexibility were critical and where InvoMilling really solved the issue. One of our customers in India, Schneider Prototyping, is a subcontractor to the automotive industry. They were asked by one of their customers to present 15 different prototypes in one week. That's almost impossible with conventional methods. We sent a team over and helped them out. Needless to say, the customer is now a truly convinced ambassador for InvoMilling."
What are the Challenges Right Now?
"InvoMilling is redefining gear milling completely, and it will take time to convince the industry that it's as exceptional as we say when it comes to quality and productivity. Still, we already have more requests than we had expected and will continue to spread InvoMilling as much as possible in the marketplace and offer the gear manufacturing industry all these benefits. It's a giant leap in the efficiency of manufacturing gears."
Want more information? Click below.