Minnesota Manufacturer "Turns Live" to Produce Large Valve Flanges in One-Third the Time
With the help of an Ingersoll face mill, DeZurik-APCO-Hilton switched to a live turning process to manufacture large valve bodies. The result? Facing cycle time for the flanges was reduced from 18 minutes to 3.
Many valve makers still do their flange facing by turning with single-point stick tools. After all, valves are basically round and have two or more flanges to be brought into tolerance and flatness specs, so conventional turning seems natural. It has been that way as long as there have been valves.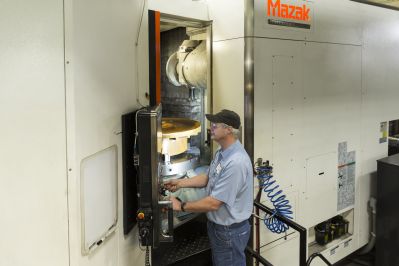 Using a "live turning" process tooled with an Ingersoll Hi QuadF face mill, this valve maker completes valve flanges in one third the time of conventional "stick" turning with a single point tool.
But Glenn Hennen, a 15-year veteran machinist at DeZURIK-APCO-Hilton in Sartell, MN, believed there had to be a better way. His idea arose in June, 2014, when DeZURIK moved production of their 42-and 36-inch valve bodies to a new Mazak e-1550V five-axis CNC mill turn machine. Until then the company machined the flanges in a conventional turning process at 650 SFM, 0.25 IPR feed rate, requiring about 18 minutes per side to complete.
The company produces about 160 of each size per year, made to order, which occupies about 20 percent of machining time on the new machine. Employing about 300 shop personnel and running 24/6, the company is a recognized leader in valves for municipal water, hydropower and processing applications.
Not surprisingly, management listened to Hennen and moved ahead quickly, bringing in their "go-to" tool vendor Ingersoll to pursue his idea. As a result, DeZURIK reduced facing cycle time for the flanges from 18 minutes to 3. This saves about $114 per part on the two valves now running on the Mazak.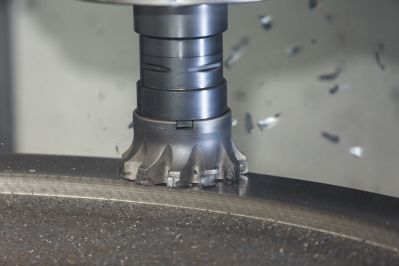 Ingersoll Hi QuadF face mill works like a router to make more chips faster. Tool rotates at785 SFM as it feeds outward at 0.561 IPR on the C axis. Free cutting tool geometry with 12° lead angle minimizes lateral cutting forces for stable machining all the way out to the circumference of the flange.
Based on that success, the company is standardizing on the process as quickly as possible, anticipating savings exceeding $100,000 a year. "A five axis machine is a big-ticket item with a high hourly burden, so it's vital to get the most out of it," says Chandler Commerford, Manufacturing Engineer.
"Live Turning" Speeds It Up
The solution? "Live-turn" the flange in a Macro Helical Mill Turn Cycle. Replace the single-point stationary stick tool with a multi-edge rotating Ingersoll facemill. "We now get 11 cutting edges working at once, not just one," says Commerford, who handled all the programming to make it happen.
"Live turning also gets two spindles working simultaneously," adds Ingersoll Field Engineer Bryan Winterlin, who helped develop the solution. "Two spindle machining will almost always remove more metal faster than a single-spindle process."
The method also reduces cutting forces. On a rotating facemill, each cutting edge takes off a tiny chip sequentially to achieve the cumulative result. This distributes the cutting forces evenly over all the edges, protecting both the tool and the machine.
High- Feed Facemill Steps Out of "Comfort Zone"
The tool that made the difference at DeZURIK is a 5 inch Ingersoll Hi QuadF™ face mill, nominally a high-feed mill involving high feed rates and shallow cuts. It boasts an extra thick insert and extremely rigid seating for durability plus free cutting geometry and 12 degree lead angle for lower lateral cutting forces and enhance stability. "Here each pass removes up to 0.200", definitely beyond the 'comfort zone' for high feed tooling because it's really an all-purpose tool," explained Winterlin.
Indexing gives a good view of the Hi QuadF facemill that speeds up machining of big valve flanges at deZurik.
In flange work, low lateral cutting forces are especially important for stability toward the outer edge, which can be less supported. Unless the flange is perfectly flat, leaks can develop in service.
Winterlin and Brad Dillinger of Black Hawk Industrials ran the demo and helped the DeZURIK team set the parameters for an initial test. It was the company's first experience with live turning.
Trials Set Parameters
The valve bodies are in cast iron or ductile iron and have two flanges per part. Because of the variability inherent in castings, usually there is 0.200" -- 0.400" to remove. The operation starts at the open bore and proceeds outward along the Y axis to the flange circumference. As the part turns slowly on the main spindle, the face mill rotates at 785 SFM and feeds outward from the center at 0.561 IPR, or 403 IPM. It works much like a router in woodworking. Synthetic oil cutting fluid is delivered through the spindle.
The DOC setting averages 0.075" but may be as much as 0.200", depending on dimensions of the rough casting. Those settings are established to complete the flanges in two passes and leave the surface finish well within the 250µ spec. Edge life averages one complete piece, or two flanges.
Two Process Refinements
The only changes since the initial demo and test were to probe the rough surface to locate the starting point and switch to a tougher insert grade. Probing reduced "air time" enough to subtract another minute from the cycle without changing machining parameters. "That 'air time' saving matters more in a 3 minute cycle than it did in an 18 minute cycle," says Commerford.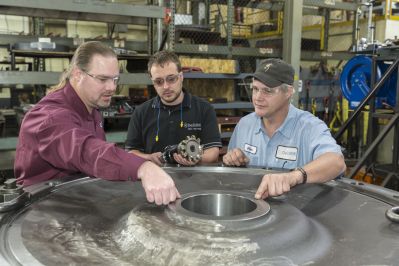 This team made it happen for DeZURIK. L to r Chandler Commerford, DeZurik Manufacturing Engineer; Bryan Winterlin, Ingersoll Field Engineer; and Glenn Hennen, veteran machinist.
The tougher insert, Ingersoll grade IN4005 improved edge life by 3 to 1 at the same removal rates. Now, cutting edges last through three complete parts (6 flanges) rates. The longer tool life stems mainly from an advanced post-coating technology that reduces microcracks and leaves a smoother, slipperier cutting edge.
"The 4000 series inserts cost us 7 percent more but give us triple the life," says Commerford. "That's a deal I'd take any day. The larger saving is in reduced tool change labor from the longer service intervals. Each indexing costs us about $15."
The aluminum oxide coating is deposited by a pressure vapor deposition (PVD) process, which creates a more durable bond between coating a d substrate. The insert is etched more deeply to enlarge the gripping area, and then the PVD coating is deposited at a lower temperature than the chemical vapor deposition (CVD) process.
DeZURIK believes in formal "Continuous Improvement" programs -- as long as there's room for spontaneity and openness to ideas from the guys on the shop floor. "Some of the best ideas have come from employees like Glenn," says Tim Kindel, Manufacturing Engineering Manager.
Want more information? Click below.