Laser Cutting Machine Provides Surface Finish Unachievable By Grinding/EDM
The LaserSmart 500 offers simultaneous 5-axis interpolation for precision laser machining of ultra-hard materials such as PCD, CVD, MD and natural diamond. With a diameter range from 2.0 to 50 mm, the LaserSmart 500 has been designed to completely process diverse operations such as profile-cutting, chip-breakers and laser-marking on inserts and cylindrical tools in a single clamping.
Laser machining generates virtually no machine stress or resistances during the process and as such, the kinematics of the machine have been optimized to ensure the fastest and most accurate axis movements as required for this type of machining.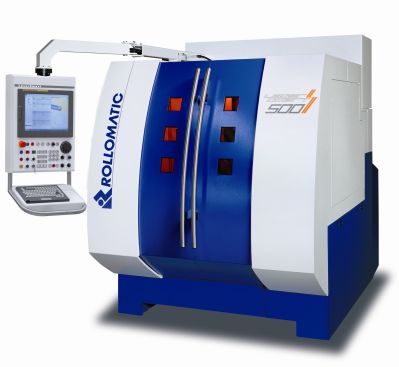 The software algorithms developed specifically for the LaserSmart 500 take into account the type of operation as well as the material constraints in order to create a global process which enables us to achieve optimal surface finish and perfect cutting edge quality in a single setup without the need for subsequent polishing operations.
Unmatched Surface Finish and Cutting Edge Quality
The combination of Rollomatic's high quality equipment manufacturing, innovative laser technology and specially developed processes enables the production of tools with cutting edge sharpness that is far superior to other technologies and processes.
Compared to all other means available for machining PCD and CVD tools, the LaserSmart 500 ensures surface finish quality well above industry standards, providing more efficient cutting and longer tool life.
Perfect Tool Concentricity
The clamping system for cylindrical parts is based on a centering V-block which provides support to the tool shank and ensures concentricity within one micron. This process guarantees perfect alignment and positioning during every clamping, whether you are loading by hand or using the optional robot autoloader. Rollomatic also offers unique and versatile clamping systems for non-round tools.
Tool Positioning and Automatic Calibration
Whether you are manufacturing new tools or re-sharpening existing tools, the tool positioning and machining operations are the same. A digital camera and 3D probe are used to ensure the correct positioning of the tool body and the brazed PCD or CVD insert within the body.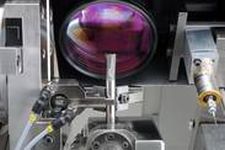 The automatic calibration feature of the LaserSmart 500 is used to determine the exact position of the PCD or CVD insert and then recalculates all trajectories accordingly. The high quality digital scanner is used to ensure that the geometry to be cut and the positioning of the laser beam are always perfectly aligned for optimal processing.
Rollomatic Loading System (optional)
Seamlessly integrated in the compact machine design, the optional robot loader can accommodate up to 1000 pieces depending on the tool diameter and offers increased machine autonomy for large batch manufacturing.
Want more information? Click below.