Radically Improved Gear Cutting Machine 10 Times Faster Than Conventional Mechanical Gear Hobbers
NUM China has helped Betek to accelerate the development of a groundbreaking six-axis precision gear hobbing machine. By utilizing a direct-drive spindle and NUM's ultra-precise electronic gearbox and renowned CNC gear hobbing technology, together with a unique HMI developed by a local specialist machine designer, the new Betek YK3132Z gear hobber provides unprecedented cutting speed and processing efficiency. It is up to 10 times faster than conventional mechanical gear hobbers and looks set to establish a new performance standard for gear production automation.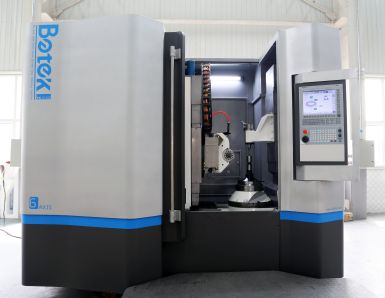 Betek's new YK3132Z six axis gear hobbing machine uses the latest Flexium+ CNC kernel and high-end NUMDrive X servo drives in conjunction with compact BHX and SHX servomotors; high resolution encoders and closed-loop control maximize accuracy of speed and position.
Both the turret spindle motor -- a built-in model -- and the table (C axis) torque motor are powerful direct drive units that are also controlled by a NUMDrive X servo drive. These motors completely eliminate the need for mechanical power transmission components such as worm and helical bevel gears, resulting in precision, backlash-free movement.
The turret spindle can handle speeds up to 1,200 RPM, while the table can rotate at up to 280 RPM; this allows use of the latest high-speed cutting tools. Accuracy and reliability are further enhanced by the machine's use of high rigidity servomotor-driven precision ball screws for its linear axes.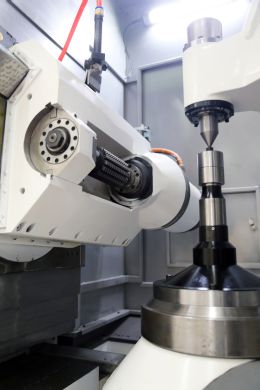 The NUMgear suite of gear production software that is being supplied includes dedicated hobbing functions and a precision electronic gearbox that allows all master axes and the turret spindle to be fully synchronized. The electronic gearbox minimizes synchronization time by predicting the acceleration rate as well as the speed of the axes.
All human interaction with the gear hobbing machine is via a NUM FS152i operator panel with a custom HMI. The operator panel features a 15-inch high resolution backlit LCD screen with 22 large function keys and contains a powerful industrial PC. The HMI makes extensive use of graphics and is inherently intuitive; users can operate the machine after just a few hours of simple training. Gear manufacturing data can either be input using a simple 'fill in the blanks' method or derived from previously processed parts -- the software includes database management functions.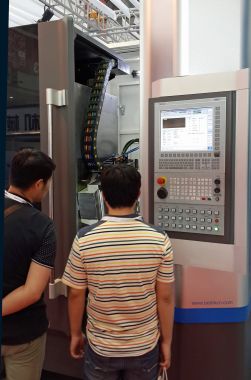 The Betek six-axis YK3132Z gear hobber accommodates gear blanks up to 320 mm (12.6 inches) in diameter. Its advanced CNC system can handle five-axis interpolation, enabling complex gear tooth profiles to be created smoothly and efficiently. The entire gear is cut as part of a single process, without interim removal/reinsertion of the gear blank or manual tool changeover.
Virtually any type of gear can be cut, including unusual types such as parallel shaft, herringbone, taper and non-circular gears. For maximum machining accuracy the machine uses dry cutting techniques, capable of achieving Level 6 precision on interim cut gears and Level 3 precision on finished products. Dry cutting also obviates the need for cutting fluid, which is a common form of pollutant in machining industries that requires special treatment and disposal.
Want more information? Click below.