Innovative Dry-Cleaning System Cleans Powertrain Parts While Saving More Than 50% in Energy
Dürr Ecoclean's new EcoCVac dry-cleaning system has been developed for an energy-saving, intermediate cleaning of powertrain parts such as cylinder heads and crankcases in modern engine and transmission production lines.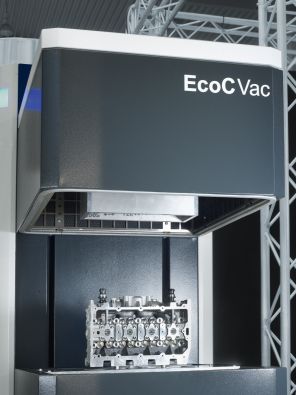 Unlike the pneumatic cleaning equipment conventionally employed between machining operations, the innovative EcoCVac process uses no compressed air at all and hence, eliminates the energy-intensive compressed air generating step. This saves more than 50 percent of energy.
A further advantage is that contaminants will be removed not just from the part, but from the working chamber as well. As a result, the system's process reliability and availability are both enhanced.
For degreasing, pre-cleaning, fine and ultra-fine cleaning in the general industry, Dürr Ecoclean is introducing other innovative solutions. These include the EcoCWave in a new two-tank version for water-based media.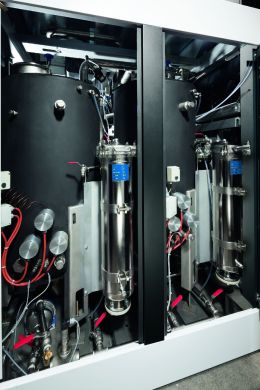 Unlike conventional aqueous cleaning machines, it is equipped with round, flow-optimized, upright fluid tanks. This offers various advantages: For example, it prevents the formation of chip and dirt traps in the tanks and thus improves cleaning quality and fluid service life.
Powerful pumps and large-diameter piping used throughout the EcoCWave accelerate filling and draining of work chamber and tanks. As a result, non-productive times are minimized and machine throughput is increased.
These benefits are shared by the EcoCCore, a machine setting new standards in solvent-based cleaning. It is designed to operate with non-halogenated hydrocarbons and modified alcohols. This ensures its future viability even if the part range or specifications should change. Moreover, this solvent-based system shines with an extensive standard equipment level that includes two flood tanks, heat recovery, and full-flow plus bypass filtration.
Want more information? Click below.