Pre-Treated Conveyor Belt Lasts 25% Longer and Saves Up to $20,000 Annually per Sintering Line
Cambridge Engineered Solutions has introduced Knuckleback™ Platinum, a new woven T314 stainless steel conveyor belt used in the final sintering stage in powdered metal production lines that produce parts for automobiles, home appliances and other industries.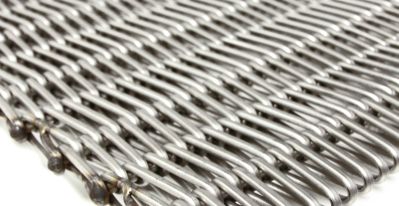 Knuckleback Platinum's belt life is significantly extended through a pre-oxidation process that provides surface protection to prevent carbon build up in the furnace and along the edges of the belt.
The belt was developed in collaboration with Abbott Furnace Company, the leading manufacturer of continuous belt furnaces in North America. Field tests performed by the two companies have shown that the pre-treating process increases belt life by 25 percent and reduces operational down time for belt replacement by more than 18 percent. The belt is now available to other OEMs and powdered metal manufacturers.
Often, manufacturers facing production deadlines are not able to give products sufficient time in the de-lube heat zone prior to the sintering stage. As a result, a portion of the soot (carbon) from the lubricants naturally develops and collects inside the sintering furnace. It is carried out of the unit due to the motion of the belt. Carbon then forms on the edges of the belt causing embrittlement and eventually results in broken welds and frayed edges.
"With these issues in mind, Abbott came to Cambridge for a remedy," said Cory Bloodsworth, Cambridge Director of Business and Market Development. "We have a long relationship working together to optimize products for the marketplace."
Tom Perdue, Cambridge Product Development Engineer, said the company's engineering team worked on and tested a solution for more than a year.
"What we developed is a controlled pre-treatment process where the belts undergo a series of heat 'soaks' to build a protective layer of natural oxidation on the surface of the wires," he said. "Field tests show this process can extend the average belt service life from 60 days to more than 75 days." The process effectively replaces the desired break-in period that is not practical for most companies operating a powdered metal sintering furnace.
"The additional 15 days of average belt life means one to two less replacements per year for powdered metal manufacturers," said Bloodsworth, "which results in $15,000 to $20,000 in production uptime for a single sintering line."
Want more information? Click below.