Expanded Line of Precision Gearboxes Handles Wide Variety of Applications
EXSYS Tool, Inc. expanded its offerings to include a new line of high-quality EPPINGER gearboxes and custom gear-making services for a wide variety of industries.
Spiral Bevel Gearboxes
EPPINGER offers BT (bevel torque) and BM (bevel maximum torque) compact spiral bevel gears that bring high torque and maximum efficiency to gear applications that require a high degree of reliability and variability. Each of these bevel gearbox types offers minimized tooth clearance and optimal transmission properties via precision axes and bearing seats combined with GLEASON bevel gears that can withstand high loads.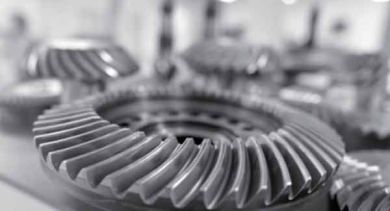 The single-component steel housings for these bevel gearboxes feature mounting threads on all sides to ensure stable attachment in a variety of installation positions. The heavy-duty bevel gears inside these housings offer high-transmission precision and reduced stress on the bearings. A friction- locked, zero backlash connection of the crown gears on the drive shaft reduces the mass of the gearing component.
Both BT and BM gearboxes come in solid or hollow shafts in standard and custom designs. BT-type models are available in seven sizes with a transmission ratio of i = 1:1 to 5:1, while BM-type models are available in five sizes with a ratio of i = 1:1.
Planetary Gearboxes
EPPINGER offers PE (planetary eco) and PP (planetary precision) planetary gearboxes for applications that require low backlash, high efficiency, shock resistance and a high-torque-to-weight ratio. With a modular design that combines ground gears and precision gear components, these gearboxes ensure performance efficiency and maximum uptime. They are also energy efficient and easily mount to a variety of motors.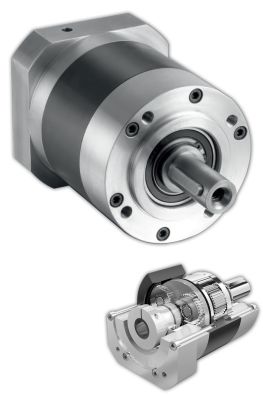 The present range of planetary gearboxes comprises five sizes, with each size offered as a single, dual, or triple stage design. Each gearbox variant is also available as a precision design with reduced backlash. The wide range of sizes and designs allows users to achieve overall transmission ratios from i = 3:1 to i = 512:1 in a variety of applications.
Planetary Bevel Gearboxes
EPPINGER's BP (bevel planetary) planetary bevel gearboxes combine features of the company's BT (bevel torque) series bevel gearboxes with the pre-stages of its PE (planetary eco) planetary gearboxes, creating an innovative solution for various applications. The stable housing design and hardened, super-finished gear components of these gearboxes help ensure smooth running and constant backlash control.
These planetary bevel gearboxes are efficient and achieve high-output torque and extremely high-transmission ratios up to i = 320. Currently offered in eight sizes, the planetary bevel gearboxes easily mount to a wide range of motors.
Hypoid Gearboxes
EPPINGER's HT-type hypoid gearboxes feature a compact, robust design suitable for both specific and highly dynamic applications. With a specially developed aluminum mono-bloc housing with high-precision bearing seats and an integrated input shank, each hypoid gearbox provides unmatched stability, accuracy and efficiency.
These hypoid gearboxes easily connect to a variety of servo motors. With solid steel alloy and hollow shafts for shrink disc connection, users can install these gearboxes in various positions with a choice of the output side. Currently, the gearboxes are available in four sizes in the ratio range from i = 5:1 to i = 15:1.
Cycloidal Gearboxes
To round out its product portfolio, EPPINGER develops and manufactures cycloidal gearboxes. These compact, high-transmission gearboxes are an excellence choice for tool machinery, automation and robotics. With integrated support bearings and a high-overload capacity, they excel in applications that require the utmost stiffness, performance and efficiency.
The cycloidal gearboxes are available in six sizes with ratio ranges from i = 57:1 to i = 175:1, and in solid and hollow shaft designs. They can also be adapted to meet specific customer requirements.
Custom Gear-Making
In terms of custom gear-making services, EPPINGER can develop and manufacture virtually any type of gear. The crown gear diameters can range from 0.4 mm to 330 mm, depending on the transmission ratio. Examples include high-performance bevel gearboxes as well as ring and pinion gear sets. In fact, the company has made gear solutions for Mercedes, Bugatti and Airbus.
Want more information? Click below.