Large Tier One Aircraft Supplier Finds Solution for Slot Machining in Titanium
Aerospace manufacturer switches to a new single pass process and reduces cycle time on one structural component by 68%.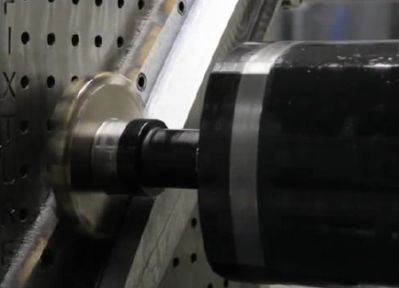 Niigata's HN80D-II-Ti features a heavy-duty 40HP, high-torque. 4-range geared spindle.
SNK America was approached by a large tier one aircraft supplier in need of a better solution to machine Titanium aircraft structures. Existing processes were no longer sufficient to meet the cost and quality demands required to be competitive in today's aerospace manufacturing market. Proposing a successful solution would result in a multi-machine multi-phase purchase.
The subject part is a Titanium forging that measures 35" in length with the key feature being a 1" wide slot 32" along its length that reaches a depth of 2" with corner radii of 0.15" along the bottom. This is the most crucial and cycle-time consuming aspect of the machining process.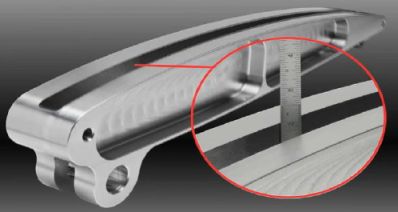 Structural Component
The customer's previous process required two passes with a cycle-time of 20 min. 31 sec., and less than optimal tool life. Using Niigata's HN80D-II-Ti (Titanium/Hard Metal) HMC at SNK America's Tech Center, they were able to machine the slot in a single pass, in 6 min. 35 sec., with an impressive 68 percent savings on cycle time.
The HN80D-II-Ti features a heavy duty 40HP, high torque, 4-range geared spindle which outputs 1,438 Ft lbs. of torque. This heavy duty spindle is paired with Niigata's vibration damping Box-Way design -- a combination that makes easy work of this extremely challenging machining process.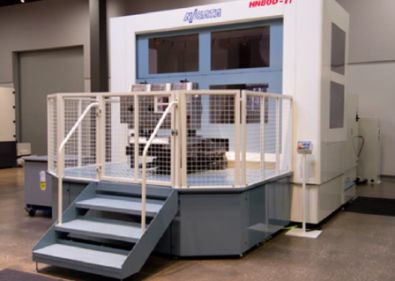 Niigata's HN80D-II-Ti in the SNK America Tech Center.
The HN80D-II-Ti also showcases additional features to support the demands of hard metal machining, such as increased axis thrusts, high table clamping pressure, and enhanced coolant systems that are critical for production machining of difficult materials such as Titanium.
An 8 Inch, 16 tooth Slot Mill was utilized at 80 RPM (165 SFM). Cutting feedrate was 5.60 IPM 0.0045 IPT to utilize the available torque of the Niigata spindle -- compared to the customer's former process at 80 RPM and 3.15 IPM 0.0025 IPT.
Want more information? Click below.