Single Set-Up, 7-Axis Deep-Hole Drilling System 5 to 7 Times Faster Than Gundrilling Alone
UNISIG introduces its new USC-M series of 7-axis deep-hole drilling and machining centers. Ideal for mold production, these machines allow manufacturers to process large and small parts with four-sided machining capability in a single set-up.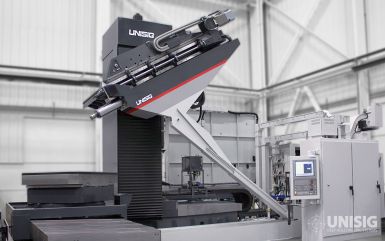 The USC-M series machines utilize two independent spindles: one for gundrilling and BTA drilling and a second CAT 50 machining spindle. When this additional capability is combined with a rotary workpiece table and programmable headstock inclination, accurate deep-hole drilling and all standard high-performance machining capabilities are available within the working envelope of the system.
The seven axes of control on the M-Series machines utilize the B, A, X, Y and Z axes for 5-axis machining operations, the W-axis for the combined gundrilling and BTA deephole drilling spindle, and the U-axis for machining. This provides 3 plus 2 machining to make deep-hole drilling and machining of compound angles faster, easier, and improves productivity and throughput by reducing setups and eliminating changeovers to multiple machines.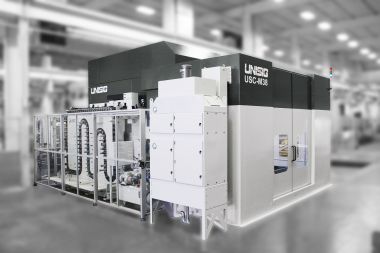 In fact, using a deep-hole drilling headstock capable of conventional gundrilling and BTA high-performance drilling has proven to be five-to-seven-times faster than gundrilling alone.
Like all of its equipment, UNISIG engineers and manufactures the USC-M series in the United States with high-performance components. Currently, the series comprises two machines: the USC-M38, which offers a nominal drilling depth of 59.1", and the USCM50, which extends the nominal drilling depth to 72". Both allow for drilling diameters up to 2".
UNISIG also offers a full complement of options for these machines to further enhance their milling and machining functions, including full-enclosure guarding, a 120-position automatic tool changer, a laser tool pre-setter and probing.
Want more information? Click below.