New Turnkey Plant Offers Engine Technology of the Future for Series Production of Cylinder Blocks
The STURM Group and the MAG IAS Group are presenting a world premiere: the STURM coating center ACCS TWS aligned with SPECHT® machining centers. The two collaborating companies thus offer a turnkey plant for the series production of cylinder blocks with thermal bore coating on the market where the entire process technology for the end user comes from a single source.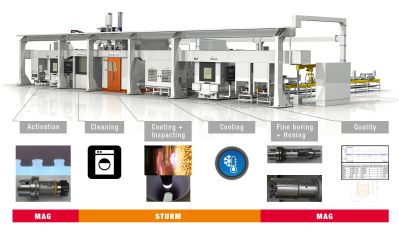 Turnkey production system for cylinder blocks with thermally coated cylinder bores.
The many years of process know-how of the two companies is combined in order to be able to present an optimal production solution. The thermal coating of cylinder bores is being used in series production and presents plant suppliers with new tasks.
Cost efficiency, quality assurance, space savings and productivity are the major requirements for the manufacture of cylinder blocks with new technological challenges. The partners STURM and MAG provide a system solution from a single source with impressive innovations which fulfills all the parameters in an optimal way.
Additionally, the collaboration offers the option of reverting back to the APS process (atmospheric plasma spraying) as an alternative to the RSW process (rotating single wire) thus the highest degree of flexibility.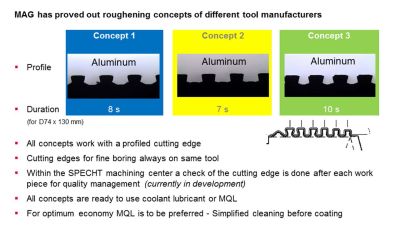 The activation procedure with different tool concepts.
There have also been innovations in the area of the activation or roughing after MAG tested and further developed the roughing process with various tool manufacturers. With this technology, the efficiency of the high pressure water jet cutting was in particular significantly improved.
The very compact coating plant needs hardly more production space than a machining center and is characterized by it high flexibility. A cylinderInspector (CI) is integrated in the machine which scans the surface before and after the coating during the machining operation. This regulates the process or rejects the NOK parts automatically.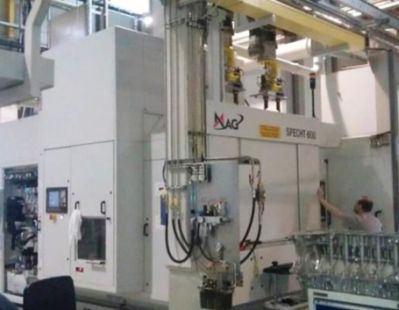 Honing of coated cylinder bores in the series.
There are also new approaches for the finishing work following the coating. For example, the honing technology on the MAG machining center plays a decisive role because on the machining center, in one clamping, the honing pass and the brezel are machined at the same time and the cylinder bore is rough honed. This process has been running well for over a year with great success in the series production. Fine boring of the coating with a subsequent finishing honing on the machining center is also possible as an alternative.
Basically, there are two options for the machining strategy: For existing lines, the coating solution can be configured as by-pass and for newly planned production lines, the process can be fully integrated in one line.
With this combination of series-tested individual processes with a combination of innovations and new process technologies, MAG and STURM provide a premiere which sets new standards for volume production in the highest quality.
Want more information? Click below.