Latest Software Provides Most Advanced, All-Inclusive 3D Digital Design-to-Manufacturing Solutions Available Today
3D Systems enables an integrated 3D digital thread covering all aspects of design to fabrication by providing a comprehensive suite of software solutions that cover everything from scanning, parts and tool design, milling, turning and MTM manufacturing, to 3D printing and inspection.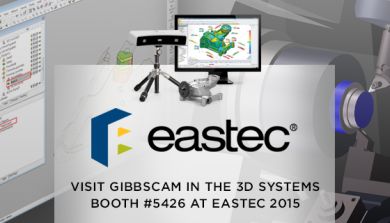 When it comes to CAM for production software, GibbsCAM 2015 is now powered by its new Universal Kinematic Machine (UKM) engine, developed to enable greater accuracy in toolpath verification and machine simulation, while retaining its iconic and well-known shop-friendly interface.
GibbsCAM UKM is a complete reengineering of the CAM engine and how it relates to machine definitions and machine tools, blurring the line between the definition of mills and lathes. GibbsCAM UKM was created from the ground up with no limitations so it can handle any number of axes in any direction, with multiple tools cutting simultaneously. It was designed to enable users to program and accurately simulate virtually any machine today.
Dramatic improvements to rendering and Machine Simulation such as the dynamic 3D viewing of tools and tool-holders in the tool dialog provide the most accurate simulation available, giving customers the confidence that what they see on the computer screen is what will happen at the machine. An entire new category of tooling has also been added called Intermediate Tooling. Also new is integration with Sandvik Coromant's Adveon Tool Library.
In addition, users will be able to program and simulate the most complex machines on the market, including machines from Bumotec, Citizen, DMG MORI, Doosan, Matsuura, Mazak, Nakamura-Tome, Okuma, Star, Tornos, Willemin-Macodel, and many others.
VoluMill, the integrated Ultra-high performance toolpath brings a virtual revolution to roughing speeds with typical time savings of over 50 percent. Together, with the new Rest Milling procedure and an accurate visualization of remaining stock at any stage, a safer, more robust process can now be attained with smoother machine motion, reduced vibrations and jerks, better surface quality and longer tool and machine life.
Significant improvements have also been achieved regarding insert design, motion simulation and 3D cooling analysis. CimatronE 12 also offers new cooling design and analysis capabilities that support both traditionally drilled cooling channels as well as the conformal cooling channels that are typically manufactured using 3D printing technologies. The AMF (Additive Manufacturing File) format -- a new standard for converting 3D models into digital files -- is also supported.
A powerful new EDM (Electrical Discharge Machining) setup can fully control the burning process of any type of machine and delivers an impressive ROI by slashing machine supervision and project completion time while operating 100 percent error-free.
3D Systems will demonstrate the latest versions of its industry leading software solutions -- CimatronE, GibbsCAM and Geomagic -- at the EASTEC trade show in West Springfield, MA, May 12-14, 2015.
Want more information? Click below.