Horizontal Boring-Milling Machine Ideal for Multi-Face Machining on Large Workpieces
SORALUCE AMERICA is introducing the KB-150-WR Horizontal Boring Machine to the North American market. This machine is a T-Type machine that gives customers access to maximum efficiency for multi-face machining of large work pieces.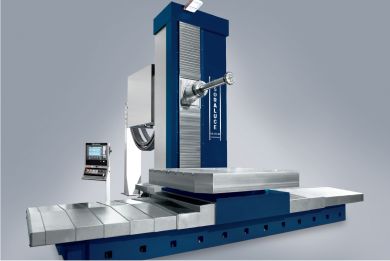 The KB-150-WR horizontal boring machine is a robust, precision solution that changes the game in milling and boring by providing an efficient and durable state-of-the-art machine that can meet a wide assortment of machining requirements.
The combination of top quality cast iron elements, linear roller guide ways with a hydrostatic dampening system provides high dynamics that improve the machine's performance. The quill's exceptional thermal stability is due to 3 complete cooling systems for the bearings, the gearbox and the spindle motor.
The highly rigid quill spindle is mounted in large angular contact bearings that are lubricated with an air-oil system. This spindle design is matched to an oversized ram to provide for efficient machining in extended reach applications. In addition, the machine undergoes specific reliability and precision testing, pursuant to SORALUCE'S demanding standards.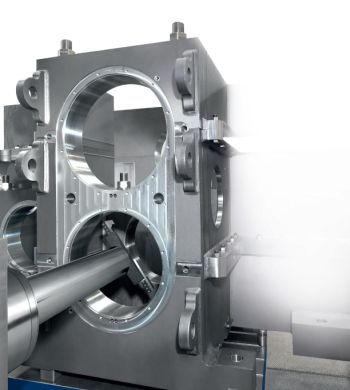 This machine offers high performance with 787 ipm rapid rates, high axis feed forces, a 5.9" quill with 31.5" of travel, and a large ram with 40" of stroke. All of these combine to provide heavy stock removal capacity with high rigidity.
A wide variety of rotary tables are available to meet the specific part weight requirements. These tables rotate on high precision bearing and low friction surfaces for smaller load capacities and on hydrostatic bearings for larger load capacities. Table rotation is via a dual drive system utilizing a large external crown gear with a helical gearing/zero backlash precision gearbox. The hydraulic clamping system provides for a maximum tangential clamping force up to 140,000 Nm (103,200 lbs.-ft).
Want more information? Click below.
Copyright © 2019 by Nelson Publishing, Inc. All rights reserved. Reproduction Prohibited.
View our terms of use and
privacy policy
::m::