Are Lightweight Plastic Materials the New Solution to Reducing Cost of Aircraft Components?
The aerospace industry is thriving and is predicted to continue on an upward trajectory into the next decade. Demand for new aircraft is expected to support an industry-wide growth of more than 50 percent by 2021. But who will meet that demand? Two manufacturers contend they have the answer with lightweight parts made from plastic -- not metal.
In aerospace manufacturing, new materials development is emerging in the search for more cost-effective solutions for keeping fuel costs down as passenger-miles soar. Industry customers are increasingly asking their suppliers to provide lighter, yet stronger composite material alternatives to aircraft components that have traditionally been made from metal.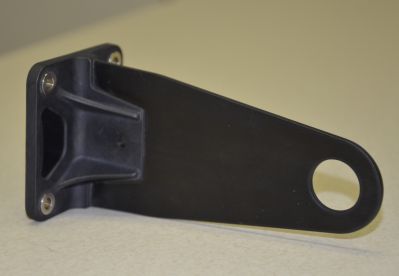 A hybrid bracket made of composites and metal, manufactured by Tri-Mack in their Advanced Composites Center. Such hybrid components combine the performance of thermoplastic composites with injection molding, and sometimes metal fastener inserts (as shown here), to create complex assemblies.
Tri-Mack Plastics Manufacturing Corporation contends it has found the formula for meeting their clients' needs for lower cost, lightweight, high-quality thermoplastic parts and assemblies through a combination of innovative technology, materials expertise and customer collaboration. While other suppliers have downsized and outsourced, the 40 year-old company recently hired almost three dozen new employees, opened a new Advanced Composites Center, and is already planning to expand its onsite facilities in Bristol, R.I.
The Advanced Composites Center is dedicated to processing the latest thermoplastic composites (TPCs) that offer Tri-Mack's customers in aerospace and other industries lightweight, robust, alternatives to heavier, more traditional materials. Key benefits of TPCs include:
TPCs are continuous fiber reinforced materials with exceptional mechanical properties. Tri-Mack works with prepreg tape and fabric -- unidirectional and woven carbon and glass fibers in a high temperature polymer matrix -- PEEK, PPS, PEI, etc.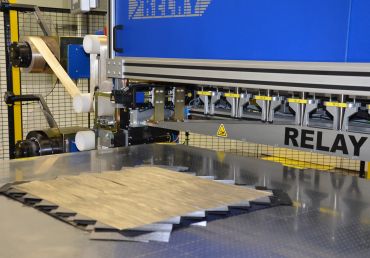 Automated layup of unidirectional prepreg tape (foreground) at Tri-Mack's Advanced Composites Center.
TPCs offer 10x the mechanical properties of injection molded plastics and are up to 70 percent lighter than metals.
Tri-Mack uses automated equipment to lay-up the unidirectional prepreg tape, consolidate low void laminates and thermoform complex shapes. Lay-ups can be tailored to align fiber orientation to optimize the performance of the finished part.
TPCs are processed in minutes, not the hours required for thermoset composites. Unlike thermosets, TPCs' cost-effective manufacturing does not require freezers, autoclaves, or hand lay-ups.
Tri-Mack produces hybrid components that combine the performance of TPCs with injection molding to create complex assemblies. Hybrids feature the key advantages of both processes: the outstanding mechanical properties of thermoplastic composites and the low cost of injection molding.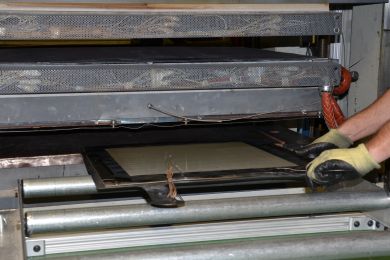 Consolidation of low-void laminate at the press in Tri-Mack's Advanced Composites Center.
Tri-Mack recently completed a project to qualify over 200 part numbers for a large aerospace OEM -- at an accelerated schedule. By converting the parts from steel to TPC, the company was also able to achieve an average weight savings of 40 percent for its customer.
"A tremendous amount of development goes into every aerospace project," says Will Kain, Tri-Mack president. "Naturally, at times this strains capacity at the OEM level. We've always viewed our role as that of a valued supply chain partner, helping our clients complete their projects and meet their weight-savings goals. One key aspect of the Tri-Mack formula is that we've become an extension of our customers' engineering teams."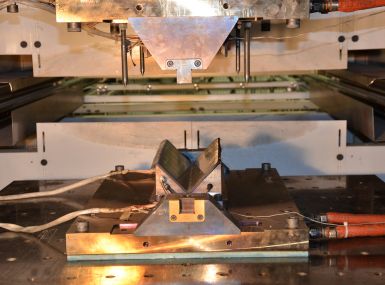 To thermoform complex shapes, a high-speed shuttle transports the consolidated laminate into an infrared oven, where it is heated and then precision molded in a tool designed and built by Tri-Mack.
Tri-Mack provides their clients with access to an impressive technology lineup -- which, in addition to their Advanced Composites Center, includes injection and compression molding, precision multi-axis machining, tool making, and a robotic injection molding cell -- all backed by years of experience. From design for manufacturing to metal-to-plastic conversion, Tri-Mack's main objective is that each part they produce meets their clients' exact needs, whatever the materials involved.
Fusible-Core Technology Improves Aircraft Fuel and Manufacturing Efficiency
In the manufacturing of complex fuel housings for the global aircraft industry, cost savings of more than 30 percent and weight savings of up to 50 percent can be achieved as opposed to existing metal designs.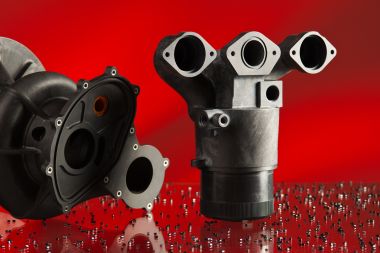 Aerospace fuel housing made from VICTREX® PEEK polymer achieves a 50 percent weight savings.
The efficient production, including part consolidation, is the result of Egmond Plastic, a leading injection molding specialist, combining their own fusible-core technology with a high performance PEEK polymer solution provided by Victrex. Carbon fiber reinforced grades of VICTREX® PEEK polymer eliminate the use of a separate bearing, for example, since this is now integrated into the overall design of the housing.
Fuel housings for aerospace applications have very complex inner geometries which are not moldable using conventional injection molding technology. Egmond Plastic's fusible-core technology enables moldings of complex hollow housings, manifolds, and pipes.
Richard Brandwijk, Managing Director at Egmond Plastic, explains: "Our technology, in combination with carbon fiber reinforced VICTREX PEEK polymer, delivers numerous benefits. These include cost reduction, enhanced manufacturing speed, and weight reduction leading to improved fuel efficiency and reduced CO2 emissions. Along with part consolidation, this exceptional technology and material combination enables the design of very complex parts, beyond the capabilities of standard injection molding and metal processes."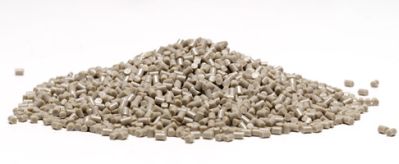 High performance thermoplastics, available in pellet and powder forms, have delivered reliability in a wide range of challenging applications.
Utilizing a near net-shape manufacturing process for the fusible core allows for an 80 percent time saving versus machined parts. Secondary treatments for corrosion protection, such as anodizing, can be eliminated. Lead times can be reduced by 50 percent. These factors collectively result in part cost savings of more than 30 percent versus metal equivalents.
"The global aerospace industry stands to gain enormously by persistently replacing metals in key applications, in which Egmond has demonstrated tremendous leadership," said Uwe Marburger, Aerospace Business Development Manager at Victrex. "Clearly, our PEEK knowledge and material solutions help enable the use of a technology that addresses some of the toughest challenges in complex aerospace part design and productions."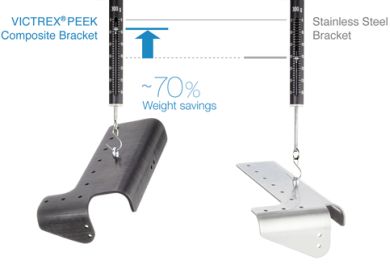 Carbon Fiber Composite brackets made from VICTREX® PEEK polymer reduce fuel costs on next generation aircraft.
Previously, the end-user had generally specified aluminum for the production of fuel containing parts, but a carbon fiber reinforced PEEK polymer demonstrated superior fatigue performance when compared to aluminum. It does this while meeting all the engineering requirements for this application, including stiffness, effective flame, smoke and toxicity (FST) performance, and resistance to aggressive chemicals, including notably, for this aerospace application, resistance to jet fuel and Skydrol hydraulic fluid.
Parts can range in size all the way up to 30 cm x 30 cm x 40 cm (11.8 in x 11.8 in x 15.8 in), and typically the process is used for production runs of up to 2,000 parts.
Egmond's unique fusible-core technology has already established a proven track record using VICTREX PEEK in a fuel pump for the Eurofighter Typhoon, a jet fighter in use in several European countries. This pump has been in successful operational use for more than 20 years.
Want more information? Click below.