"Take 5 for 5-Axis" Initiative Introduces Five New 5-Axis Models
With the introduction of five 5-axis models, Hurco has announced a major initiative called "Take 5 for 5-axis" to help manufacturers evaluate the merits of 5-sided machining for traditional 3-axis parts with features on all five sides.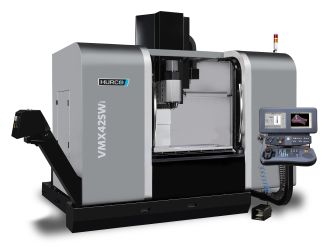 VMX42HSRTi
"Purchasing a 5-axis machine is truly an investment in the future that pays dividends today," said Maggie Smith, Marketing Manager for Hurco Companies, Inc. "When a shop invests in a 5-axis mill and runs their existing parts on the 5-axis employing 5-sided machining, or 3+2 as it is sometimes called, they immediately reduce setup time, increase accuracy, and reduce cycle time on those parts."
As part of the 5-axis initiative, Hurco has introduced five 5-axis models: the VMX30UHSi, VMX42HSRTi, VMX84SWi, VMX60SWi, and VMX60Ui.
The VMX42HSRTi has a swivel-head design with direct drive, rotary, torque table (C-axis) and is equipped with a high-speed 18,000 rpm integral motorized spindle. The VMX42HSRTi has X/Y/Z travels of 42/24/24 and the table's working surface is 50 x 24 inches.
All of the SRTi 5-axis machines provide maximum manufacturing versatility to support a high mix of parts: complex simultaneous 5-axis parts; 5-sided parts; and because the rotary torque table is embedded, the generous working surface of the table supports secondary operations, 3-axis work, or even plate work.
Additionally, the stout table supports heavier loads and the rotary torque table has unlimited angular movement instead of just 360 degrees that is often standard throughout the industry.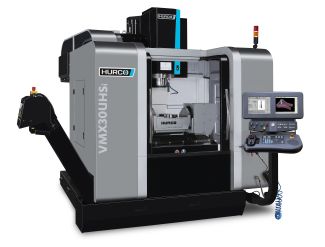 VMX30UHSi
The VMX30UHSi is a trunnion-style 5-axis machine equipped with a high-speed 18,000 rpm integral motorized spindle. As with all U-Series Hurco 5-axis machines, the VMX30UHSi was designed with an integrated trunnion table, which provides more clearance in the Z-axis and facilitates heavier parts, instead of just mounting a table on a 3-axis machine.
The second new trunnion-style 5-axis machine from Hurco is the VMX60Ui, which has a 12,000 rpm spindle and X/Y/Z travels of 60/26/26.5 inches.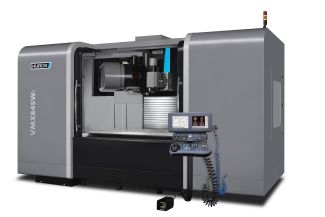 VMX84SWi
The two new SWi machines added to the lineup are the VMX84SWi with X/Y/Z travels of 84/34/30 inches and the VMX42SWi with travels of 42/24/24 inches. The SWi models offer 4-axis rotary functionality utilizing the same B-axis swivel head design as the aforementioned SRTi models, but can equipped with an optional A-style rotary table that meets your needs instead of the C-axis table that is on the SRTi models.
Want more information? Click below.