3% Drop in Auto Production Drives Down U.S. Factory Output for a 3rd Straight Month
Output at U.S. factories fell for a third straight month in February, driven by a big drop in production at auto plants.
The Federal Reserve said that manufacturing output fell 0.2 percent in February, following a decline of 0.3 percent in January. Overall industrial production edged up a slight 0.1 percent in February, as unusually cold weather in many parts of the country led to a surge at utilities.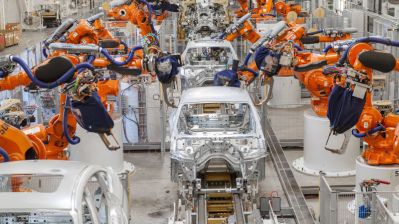 The weakness at factories is attributed in part to a stronger dollar, which makes U.S. exports more expensive on overseas markets, and supply disruptions from the labor dispute at West Coast ports.
Analysts, however, aren't too concerned. They say rising consumer spending will likely offset the recent lackluster showing in manufacturing. Solid job gains and lower gasoline prices should give households more to spend on other items.
"We expect that the strong domestic economy will ensure that manufacturing output continues to grow at a reasonable pace despite the strong dollar," said Paul Dales, senior economist at Capital Economics.
The February factory weakness was led by a 3 percent plunge in production of motor vehicles and parts, the third straight decline in the category. Production of machinery and primary metals such as steel and appliances also fell.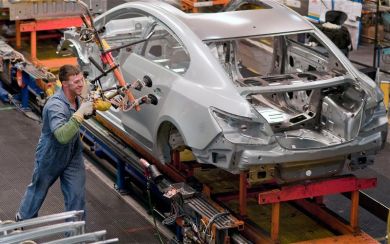 Output in mining fell 2.5 percent in February, with oil and gas well drilling down 17.3 percent -- the biggest one-month drop in nearly three decades. Oil prices have skidded by about half since last summer, which has led drilling companies to hold off on new wells and reduce oil and gas extraction.
The Institute for Supply Management, a trade group for purchasing managers, reported that its index of manufacturing activity slipped to 52.9 in February, marking the fourth straight drop and the lowest reading since January 2014. The ISM index showed that orders, hiring and production all slowed last month.
The rising dollar is expected to contribute to a bigger trade gap this year. The trade deficit widened in the October-December quarter, subtracting 1.1 percentage points from the economy's growth rate during the period.
Growth slowed to a rate of 2.2 percent in the fourth quarter, and many analysts believe the pace will be similar in the January-March quarter.
Want more information? Click below.